My two semesters at Bond University in Australia
By Alex Wuergler from Davos, Switzerland
BA Criminology and Criminal Justice with International Experience (Year 4)
As part of my international experience year, I spent two semesters - from May to December - at Bond University in Australia.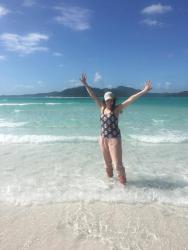 There, I found many friends, learnt a lot about both culture and criminology, and did have an unforgettable time. Being back, I already miss it!
Studying at Bond was similar yet different from student life in Bangor. Equally, Bond University is not a large university but has roughly 4,000 students. It is a private university with rather small classes, active participation of the students is encouraged and often part of the grade. Next to papers and exams are presentations one common form of assessment. Moreover, Bond is a campus university. This means that those students who live in dorms hardly ever leave the campus. They live, study and eat there. There are pros and cons about this, as outlined below. The climate, of course, is quite different and much warmer than North Wales. The people, both students and locals, are extremely friendly and have a relaxed attitude towards life. Many have a foreign background and either they themselves or their parents immigrated to Australia, 40 percent of the students are internationals.
Gold Coast
The city of Gold Coast itself has 640,000 inhabitants and offers everything one might need. Beautiful beaches for surfing and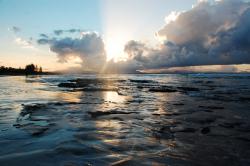 swimming, shopping centres, cinemas, restaurants, several action parks, clubs, mountains and forest in the Hinterland, slightly west of the city, et cetera. Many Australians come to the Gold Coast for their holidays. Just 90 minutes north of the city is Brisbane, the capital of Queensland and definitely worth a visit or two. The city of Gold Coast is located in Queensland, in the east of Australia. It has a humid subtropical climate and the campus is rather windy. Most days are sunny and it hardly ever rains. If it does, it is often in the form of thunderstorms. Australian winters (June, July, August) are pleasant, with a temperature between 20 and 24 degrees, summers are warm, with between 25 and 30 degrees.
Life on campus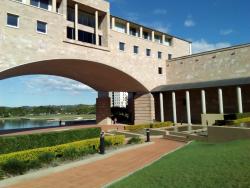 What I miss most of my time in Down Under are definitely my friends at Bond University. When you study abroad yourself you are more likely to spend time with other international students- Whilst making friends is generally something I enjoy, meeting people from all over the world is even better. Most of all, it means that everyone has another background. If you are open-minded, you get to know various cultures and ways of life different from your own. Did you know, for example, people in India are split into different castes based on the caste of their parents? And that marriage between those categories still - in the 21st century - hardly ever happen? Or that many Chinese parents send their child to Australia for high school, as there is so much competition and pressure on the students back home? Or that every third Australian resident was actually born abroad? I discussed those and many other cultural differences when I was hanging out with my friends on campus.
As Bond is a campus university, students hardly ever leave the university area and spend a lot of time socialising. At the cafeteria (most students living in halls of residences do not have access to cooking facilities and eat at the "Lakeside" or the weekly free barbeque - an essential aspect of Australian culture!), in one of the libraries, in our rooms, at the gym, or even at the on campus night club/bar, I was usually surrounded by friends. I even had a room-mate, which was a completely new experience. Whilst I was quite sceptical in the beginning whether this would work out well - what if we would annoy each other all the time? - it was amazing, and we did in fact get along great. The only disadvantage I see in always being on campus is that life can get isolated from the rest of the world in a way. Of course, we always get the news and know what is happening in Europe, in the US, or in China, but we forget about the rest of the city or how people around us live. At times, it feels kind of like living in a bubble. Well-protected, yet separated from the outside. As I love tango and salsa dancing, I was forced to leave the campus regularly and got to know a lot of locals. Besides travelling (I visited most of the places backpackers usually got to, such as the Great Barrier Reef, Uluru, Whitsunday Islands, Melbourne and Sydney of course, and much more), this is where I started appreciating and loving the Australians. They are unbelievably friendly and helpful. Once, for instance, I was sitting in a bus where an elderly lady had forgotten to get out at the right station. Hence, at the next roundabout, the bus driver turned around the 500 meters, let the woman alight, and then continued the scheduled route. I found this extremely touching for two reasons. First, at home in Switzerland, a bus driver would never ever do this, as it leads to a delay in the schedule. Second, if, for some reason, the bus turned around anyway, the passengers would most likely start complaining because of said delay. But in Australia, everything is just a bit (or a lot) more relaxed. Whether the bus gets to its final station a couple of minutes earlier or later does not really matter in the grand scheme of things. But human kindness does.
If you decide to go to a campus university, I would definitely recommend having an off-campus hobby where you engage with others. Whether this is watching rugby games (at the field), surfing, hiking, or in my case dancing and travelling, does not matter. It makes you understand your surroundings, the country and culture you do your exchange in, so much better.
I can definitely confirm that studying abroad is an amazing opportunity. You meet people with a different background than yours, get to know about other cultures, and experience life from a new perspective. If you have the chance to do it, then definitely go - regardless of when or where!
For information about our study and work abroad opportunities, click here
Publication date: 7 March 2018