News
Events
There are no forthcoming events in the calendar
Welcome
'We aspire to provide you with a world-class learning experience characterised by scientific rigour, practical relevance, and in particular a collaborative, multi-disciplinary approach to our teaching and research. Our contributing Schools have achieved top ratings in the UK for delivering supportive, high quality teaching and cutting edge research.'
Professor John Parkinson
Dean of College of Human Sciences
Academic Schools
The College, through the University, has formally linked with the recently established Betsi Cadwaladr University Health Board enabling an integrated approach to developing research, training, medical and healthcare education that will serve the needs of North Wales.
Inter-school collaboration
Although each school/institute preserves its specific identity and subject integrity, the College fosters inter-school collaboration and shared academic goals and practices.
Our teaching is informed by world-class collaborative research – The College achieved an excellent set of results form the 2014 Research Exerecise Framework. This means that students have the opportunity to study with academics who are at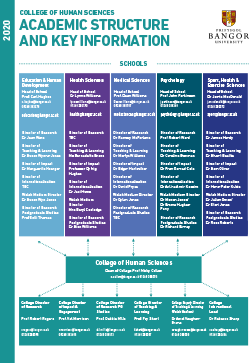 the cutting edge of their academic disciplines, whether that is elite sports performance, nurse training or fMRI brain imaging.
An excellent reputation in teaching and student support
The College's research capability is complemented by an excellent reputation in teaching and student support. Our constituent schools are nationally known for providing high quality teaching in their respective fields and have regularly been ranked very highly for student satisfaction.