Student Profile: Alys Bailey-Wood – BA in Music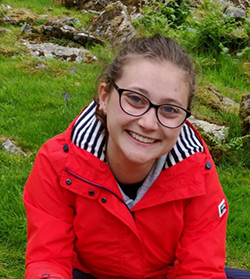 Alys Bailey-Wood
Why did you choose Bangor?
I really like the teaching staff that I met on an open day, as well as the excellent teaching quality I had heard so much about. I also liked the fact that I could study my degree through the medium of Welsh, something you can't do in all universities in Wales.
The course
I really enjoy it. I like the fact that as a musician you aren't limited to performance only. I'm able to tailor my degree to what I want to do through the modules that I take; therefore, having the opportunity to make the most of my degree.
Clubs and Societies
The social opportunities are as good as the teaching, there are so many different societies to join so anyone is able to be a part of something that they enjoy. I am a member of two, so most evenings I'm doing something that I enjoy, meaning I don't have to spend all of my evenings either working or staying in my flat. It gave me an opportunity to meet new people and enjoy new and exciting opportunities. I am a member of both the music society, and Bangor University Guides and Scouts (BUGS). I hold committee positions for both of these societies.
University accommodation
I lived in halls during my first year, it was a great opportunity to get to know people who you haven't previously met, and who are also on different courses to you. It seems scary at first, but within a few days of moving to Bangor I was incredibly happy, and felt like I had known my flat mates for ages.
Advice for new students?
I'd say that when living in halls, it is important to remember to wash up! It's so easy for a kitchen shared between 8 people to get messy if you don't keep up the cleaning! For anyone who's unsure, pay the university a last visit before moving here. It'll put your mind at rest and make you even more excited to start your time here.