Why Study English Literature ?
We offer an engaging and supportive environment for postgraduate study, focussing on small group teaching and one-to-one supervision.
Postgraduate students work closely with academic staff in a research community that encourages interdisciplinary exchange and activity.
Research activities initiated and run by our students include: an annual postgraduate conference in medieval studies and medievalism; staff and postgraduate students' writing workshop; the online postgraduate journal; and postgraduate research forum.
Arts and Culture: Our close links with local theatres, poetry groups and vibrant student societies will give you plenty of opportunities to get involved.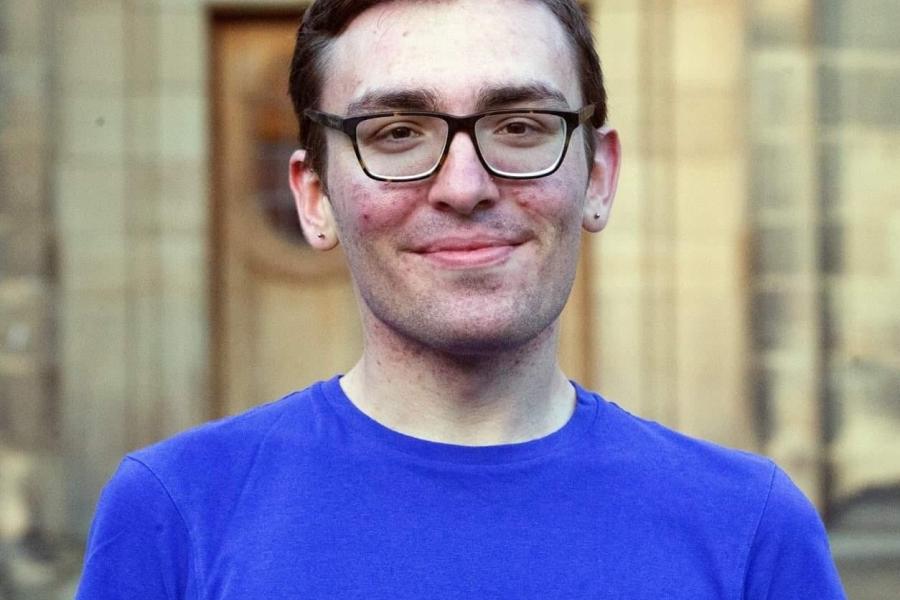 STUDENT PROFILE James Tanner
MA English Literature
"There is a close-knit relationship between lecturers and students - particularly in seminars. There is a sociable and friendly atmosphere that the school creates from the moment you arrive."
Career Opportunities in English Literature
Studying literature opens up a world of inspiration, builds knowledge and also helps develops skills that are essential for today's global environment.
Our courses offer excellent preparation for participation in doctoral programmes and adds to the qualifications of those intending to pursue a career in cultural and creative fields such as publishing, arts administration, the media, communications and teaching. The experience of postgraduate literary study can also enhance future employability, through the acquisition of transferrable skills such as: the ability to pursue independent research; to carry out advanced analysis of texts and arguments; and to present ideas fluently in written and oral form.
Our Research in English Literature
The world-class quality of our research is well-recognised, ranking us in the Top 10 universities for English literature in the country for research intensity, with two-thirds of our research in the 'world leading' and 'internationally excellent' categories (REF 2014). 
Our research strengths clustered around a range of specific periods and areas of study: medieval and early modern literature, including editing texts; the history of the book and publishing; Welsh Writing in English; Romantic and modern literature; and creative writing, with specific approaches informed by gender, social class, ideology, as well as the relationships between literature and art, and literature and religion.  We had an overall ranking for our publications which placed us in the top twenty English Literature departments in the UK.
Research centres and Institutes at, or partnered with, Bangor University include: The Institute for Medieval and Early Modern Studies (IMEMS), a collaborative research institute between Bangor University and Aberystwyth University; The R. S. Thomas Centre; The Centre for Arthurian Studies, a hub for international research and exchange in Arthurian Studies which draws on the University's historic strengths in the field; The Stephen Colclough Centre for the History and Culture of the Book, housed in the University Library and Special Collections and a focal point the study of the book as a material object.
Related Subject Areas
You may also be interested in these related subject areas.
Related Subject Areas
You may also be interested in these related subject areas.