Come and see what's on offer at the Bangor University Postgraduate Open Day
Wednesday 16th March 2016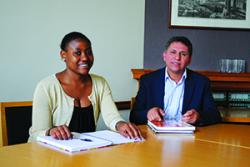 Bangor University will be holding a Postgraduate Open Day on Wednesday 16th March. Doors will open at midday and visitors are welcome to take part in some or all of the activities planned for the day. As well as an exhibition-style event with all the University's academic Schools and relevant service departments present, visitors can attend a short session relating to postgraduate study and funding issues, visit individual academic Schools/Colleges for a more in-depth look at their specific area of interest and the related facilities, and have the opportunity to take a look at some of the accommodation available to postgraduate students.
As Michael Rogerson, Postgraduate Marketing Officer at Bangor University explains:
"Postgraduate study at Bangor University isn't solely something that the recent graduate should consider. People of all ages and at all stages of life choose to undertake postgraduate study for a variety of reasons: for personal academic interest; as a career-booster; to prepare for a career in private or academic research; as a professional training opportunity; to re-skill or up-skill; to develop in-depth knowledge or to contribute significantly to existing knowledge."
The Open Day is designed to cater for those who are interested in a specific course or subject area as well as those considering several options, and is open for anyone to attend.
Depending on the subject, you don't necessarily have to have an academic background in the subject in order to qualify for entry onto a postgraduate course. Perhaps you have relevant professional experience, significant non-academic expertise or even a hobbyist's interest that may qualify you for entry onto one of hundreds of postgraduate course options available to you at Bangor University.
The Open Day programme is as follows:
12.00 – 2.00pm Registration and Exhibition (Main Arts building, PJ Hall)
1.30 – 2.00pm Presentation: Postgraduate Study and Funding (Main Arts, LR4)
1.30 – 2.00pm Presentation for international students (Rathbone building)
2.00 – 4.00pm Visit your intended academic department
2.30 – 5.00pm Short accommodation tours (departing regularly from PJ Hall)
Stevie Fox, who has studied at degree level and now PhD level as a mature student at Bangor University said of her postgraduate studies:
"I didn't realise how much fun it would be. I can look back on how far I have progressed in researching, evaluating, and indeed, writing. The freedom to choose my own topic, and the unfailing support and encouragement of my supervisors, have had a really positive impact on both my study and my self-esteem. "
Another student who has continued on to part-time postgraduate study is Marc Collinson. Marc is undertaking research into the Labour Party, immigration and the politics of race, 1962-1979 at School of History, Welsh History and Archaeology, having graduated from Bangor University.
He says: "Being able to undertake my PhD at Bangor in a part-time capacity has proved exciting and has allowed me to develop skills including writing grants bids, organising conferences and undertaking research in museums archives and even the Houses of Parliament!"
For further information about the Postgraduate Open Day, including details of activities taking place in individual academic departments, please contact:
Michael Rogerson
Postgraduate Marketing Officer
+44 (0) 1248 383648
Register for the event at www.bangor.ac.uk/pgfair
Publication date: 2 March 2016