Volunteer network to blitz shores around the UK this summer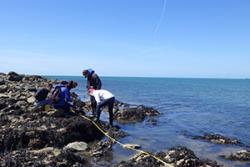 Volunteers on an earlier CoCoast event.A series of special events next month will see members of the public join together in building a more accurate picture of the diversity of marine life around the UK's coastline.
Scientists are working with a trained army of 'citizen scientists' during the upcoming 'CoCoast Unite' weekend, taking place between World Ocean's Day Thursday 8 June – Sunday 11 June at locations across the UK. This call to arms will gather vital information about the variety and abundance of intertidal species living on our rocky seashores. Moelfre beach is just one of the locations across north Wales and the UK where members of the public will be taking part in a 'citizen science' project to build a more accurate picture of the diversity of marine life around the UK's coastline.
The intertidal zone – the area between the sea and the land – is a very dynamic environment as a result of it being affected by the twice-daily ebb and flow of the tide.
Habitats in this zone can range from rockpools to mudflats to sandy beaches, which means that many types of marine animals can often be found there, from starfish and limpets to crabs and mussels – as well as different types of seabirds and in some locations, marine mammals.
The events are taking place as part of the three-year Capturing our Coast (CoCoast) project, led by Newcastle University and funded by the Heritage Lottery Fund.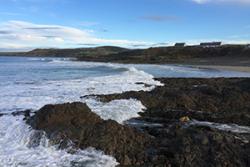 Porth TrwynThe CoCoast partnership involves Bangor University's School of Ocean Sciences, Hull, and Portsmouth Universities, the Scottish Association for Marine Science, the Marine Biological Association of the UK and the Marine Conservation Society, along with Earthwatch Institute, the Natural History Museum, Northumberland Wildlife Trust, the Centre for Environment, Fisheries and Aquaculture Science (Cefas) and the North West Costal Forum.
Dr Jacqui Pocklington, CoCoast National Co-ordinator at Newcastle University, said: "The intertidal zone is an environment of harsh extremes and is an important habitat because of the diversity of species that live there. Our CoCoast volunteers are helping us to develop a baseline against which we can track how species are changing over time".
CoCoast was launched last year and already thousands of volunteers have joined in, learning about the UK's marine life, and playing an important role in helping to fill knowledge gaps about how marine organisms and coastal habitats are responding to increased sea temperatures and other factors associated with global climate change.
The 'CoCoast Unite' weekend takes place between Thursday 8 June – Sunday 11 June, with events around the UK. Trained CoCoast volunteers can book on to join a particular event or can survey at their preferred shore. To share the impact of their efforts, volunteers can post photos of them out surveying through email or via social media using #CoCoastUnite.
People can sign up to take part in this simple outdoor science/ wildlife project, by visiting www.capturingourcoast.co.uk
Publication date: 5 June 2017