A Grand Slam for Rhun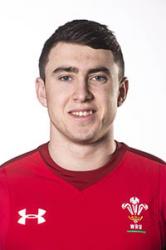 Rhun WilliamsA School of Sport, Health and Exercise Sciences student has had a highly successful first year at Bangor University.
Rhun Williams, 18, of Pontrug, won a Bangor University Sports Scholarship to combine his academic studies and performance in sport in order to help realize his full potential.
A member of the Rygbi Gogledd Cymru (RGC) team, Rhun was selected for the Wales Under 20 rugby squad who won the 6 Nations Championship Grand Slam in 2016.
About his experiences playing high level rugby and studying the same time, Rhun explained:
"There were many more practice sessions before the competition began, during and between matches. The practice sessions took place throughout the week, so I had to stay in Cardiff over a period of 8 weeks during the championship.
"The University has been amazing, and I'm very lucky. The support I received through the University's social media channels has made me feel a big part of the University, I could not have asked for better support along the way. In terms of my academic studies, I will have to push myself from now to the end of the semester to catch up.
"The Sports Scholarship has been incredibly helpful. The support has been a huge boost for me as a student, and I have had all kinds of help along the way to win the Grand Slam.
"The team had a strong sense that we were going to succeed. Many meetings were held between the coaches and the players before the competition, and we agree as a team that we are going to be the Six Nations champions.
"I was very happy with the team's and my own performance in all of the matches. The feeling of winning the Grand Slam is an amazing and unforgettable feeling, and it was a very special time for me!
"The next step for me is to try to be part of the RGC1404 team in order to win promotion to the championship next season. After that, I hope to be chosen for the Wales U20 team for the World Cup that takes place in Manchester during May and June. Next season I will be moving down to Cardiff after signing to play for the Cardiff Blues."
Related stories:
New partnership to develop North Wales rugby talent
Bangor University student selected for Wales U20 Rugby team
Bangor's elite athletes awarded Sports Scholarships
Publication date: 14 April 2016