Physical Activity for Health and Wellbeing Centre (Canolfan PAWB Centre)
PAWB houses a large, state-of-the-art physiology teaching lab (costing in excess of £1 million) designed to allow students to effectively develop their practical skills, and two exercise
physiology testing and rehabilitation research laboratories. These are equipped with cycle ergometers, rowing machines, treadmills, and free weights so that physiological, biochemical, and psychological responses to exercise can be assessed including aerobic fitness and anaerobic capacity, and strength. These laboratories also contain equipment to assess blood pressure, energy expenditure, and body composition.
Padarn Research Laboratories
Padarn houses a Biochemistry laboratory and equipment to analyse various biological samples including tissue, blood, saliva, and urine. There are also psychomotor experimental rooms and a 3D motion analysis laboratory, equipped with a 12 Camera Vicon 3D motion analysis system for analysis of whole body movement, and an active marker system to allow for the videoing and analysis of smaller, part body movements. There are also mobile eye-trackers to measure eye movements during sport and exercise participation and occlusion goggles to directly manipulate field of vision in real time during human movement.
The cardiovascular research laboratory is equipped with an ultrasound machine and 12-lead electrocardiogram systems for measuring activity in the blood vessels and heart. Padarn also houses the psychophysiology laboratory with biofeedback hardware and software used for research exploring potential benefits of biofeedback training (e.g., learning to control brainwaves, muscle tension, heart rate) for movement rehabilitation and sport performance.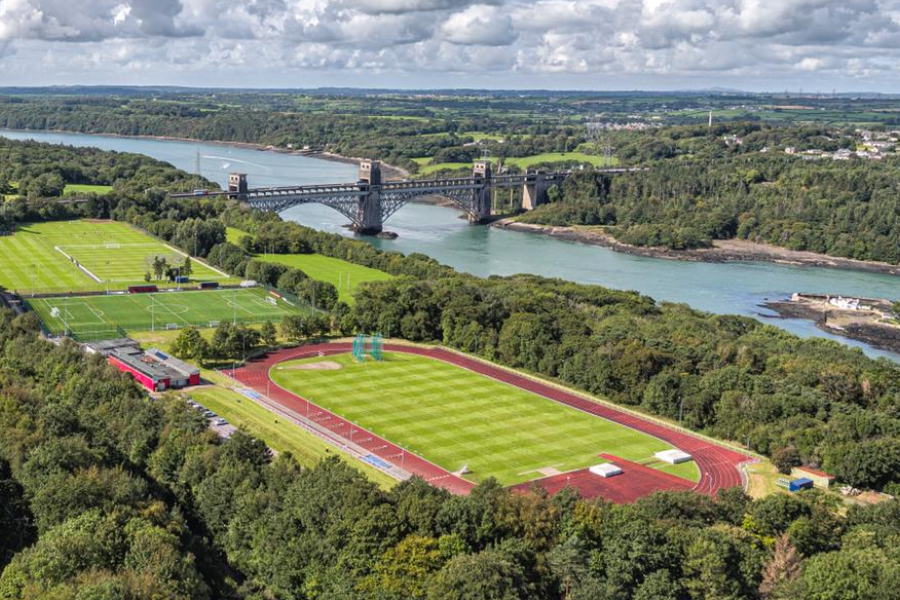 Treborth
Located on the outskirts of Bangor, Treborth has outdoor facilities, including an athletics track.