Physical Activity for Health and Wellbeing Centre (Canolfan PAWB Centre)
PAWB houses a large, state-of-the-art physiology teaching lab (costing in excess of £1 million) designed to allow students to effectively develop their practical skills, and two exercise
physiology testing and rehabilitation research laboratories. These are equipped with cycle ergometers, rowing machines, treadmills, and free weights so that physiological, biochemical, and psychological responses to exercise can be assessed including aerobic fitness and anaerobic capacity, and strength. These laboratories also contain equipment to assess blood pressure, energy expenditure, and body composition.
Padarn Research Laboratories
Padarn houses a Biochemistry laboratory and equipment to analyse various biological samples including tissue, blood, saliva, and urine. There are also psychomotor experimental rooms and a 3D motion analysis laboratory, equipped with a 12 Camera Vicon 3D motion analysis system for analysis of whole body movement, and an active marker system to allow for the videoing and analysis of smaller, part body movements. There are also mobile eye-trackers to measure eye movements during sport and exercise participation and occlusion goggles to directly manipulate field of vision in real time during human movement.
The cardiovascular research laboratory is equipped with an ultrasound machine and 12-lead electrocardiogram systems for measuring activity in the blood vessels and heart. Padarn also houses the psychophysiology laboratory with biofeedback hardware and software used for research exploring potential benefits of biofeedback training (e.g., learning to control brainwaves, muscle tension, heart rate) for movement rehabilitation and sport performance.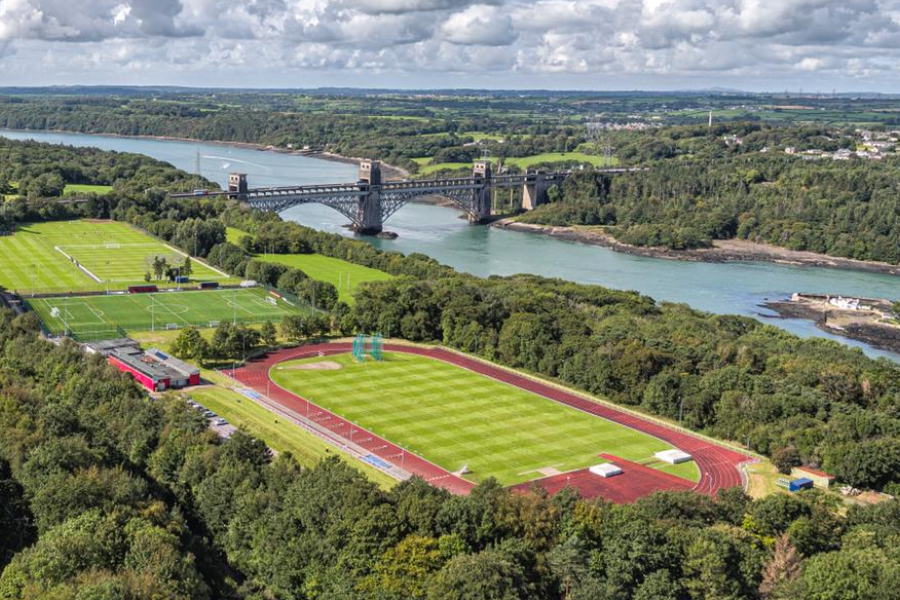 Treborth
Located on the outskirts of Bangor, Treborth has outdoor facilities, including an athletics track.
Sports and Excersise sciences 360 tour
Sports Transcript
Unusually for such a high ranked sport science department, all your facilities are easily accessible in one space. Our teaching and lab buildings are all located on the Normal Site Campus helping to reduce your travel time and create a great community working and learning environment
This is the access hub to the departments Physical Activity and Well-Being centre together with the onsite leisure facilities including two sports halls and a small strength and conditioning space
Canalfon PAWB (Physical Activity and Well-Being) centre
You are now in the main corridor of the PAWB centre where students have access to three separate teaching and research labs.
PAWB Physiology and teaching lab
Here is where you get direct practical experience using the most up-to-date sport and exercise science equipment. This regular hands-on experience helps set us apart from other top ranked sport science departments. You'll get real world practical experience using the equipment in the same way the department does when working with organisations to investigate neuroscience, psychophysiology, sport psychology, personality, and physiology to answer future employers' questions and have real impact. For example, how to measure exercise behaviour change? How to accurately measure patients, potential talent, and world class athletes' physiology to help drive positive change for them? Or how to design and implement individualised pressure training programmes for high performance teams?. Incidentally, the departments individualised pressure training programme was recently implemented with the England and Wales Cricket Board (ECB) and directly helped the England Men's teams' win the World Cup
PAWB Physiology and teaching space 2
Because it is both important for all students to have practical hands on experience and that we continue to sit in the UK's top 5 list for Sport Science departments the PAWB centre houses a number of separate teaching and research spaces. Here is one specifically designed for health, pre- and rehab, and other aspects of medical based application of sport science knowledge.
PAWB Physiology and teaching space 3
In this teaching and research lab the PAWB centre has a suite of S&C equipment from free weights right through to a treadmills that I can work up to speeds faster than humans can typically run. The use cases for this is vast from simple warm ups to high performance testing
Normal site sports hall corridor
All the facilities are just a short walk apart and often just a quick hop down a corridor.
On site we have two sports halls. In this, the smaller of the two, students and clubs can access the space for a variety of activities. Really your imagination s the limitation here
This is the larger of the two on site sports halls and contains full size basketball, 5 a side football, and netball courts, together with 4 badminton courts. This is used by students both for recreation activities, but also directly in modules and classes for practical sessions and research purposes
Everything is designed with your studies in mind. We minimise travel challenges by housing your facilities in a simple to access space. This is the main Sport Science
building where you can access staff offices, lecture theatres, more labs, together with a fantastic view of the Menai straits!
This is the main entrance of the George building
This is the main entrance of the George building. As a grade II listed building you can see it has a lot more character and soul than the typically new glass fronted buildings you'll encounter in other institutions.
George lecture room corridor
On this wing of the George Building you can access the two main teaching and lecture spaces.
George building octagonal room
In this lecture theatre you'll experience smaller groups teaching and seminars. These enable you to really develop your learning and knowledge and offer a smaller forum where discussion and challenge are easier to engage in
George building main lecture hall
This is the departments main lecture hall. This is where you'll experience the traditional teaching method of a university and interact with the staff to gain the core aspects of your sport and exercise science degree
The George building is split over several levels. Once up the stairs you can access the staff offices and additional research and teaching labs
The staff offices are in the same building as your lectures and you don't need a special card or code to access them. This means that you can schedule tutorials and discuss your studies directly with staff in a safe and friendly environment and in ad doc basis
The George building lab corridor
The second floor houses another series of research and teaching labs where you have further access to world class equipment.
Physiology Research lab 1
In the first of the George building physiology labs you'll find hundreds of pieces of equipment that are used for a multitude of purposes from taking and analysing blood through to manipulating exercise and performance environments. The latter can be completed in this lab via the use of the environmental chamber where we can manipulate both room temperature (extreme heat to extreme cold) and humidity. This helps investigate how extreme environments impact of human performance: e.g., Firefighters, athletes, rescue, and military personnel
Physiology Research lab 2
Similar to the first of the two physiology labs in the George building, the octagonal house hundreds of pieces of equipment including an altitude (hypoxia) chamber
Its just a short hop outside, alongside the picturesque Menai straits and beach to the Padarn labs and teaching spaces where you'll find the biochemistry, motion analysis, psychology, and motor control labs.
In Padarns biochemistry and prep labs you'll have access to all the equipment necessary for collecting and analysing the bodies 'chemistry'. Afterall, some say 'chemistry is all we are'. Where you believe that or not, in here you can collect and analyse everything from hair samples through to blood, muscle tissue, and the bodies cell structure.
his is an example of one of our 7 separate psychology and psychomotor control labs. In these you have access to equipment at your fingertips including multiple electroencephalogram (EEG) and electrophysiology (ERP), eye tracking, manipulandum's, graphics tablets, balance boards and even Magnetic Resonance Imaging (MRI) and brain simulation. All these
will enable you to investigate and further your knowledge of sport and exercise science to a level that will stand you apart when you enter the work place
Padarn Motion analysis lab
In the motion analysis lab you'll have access to both a 12 camera Vicon passive tracking system and an Optotrac active marker tracking system performance. Here you can really get to grips with developing your understanding of human movement to aid in your skill development surrounding performance analysis from the sports, health, and wider high-performance sectors
In addition to the excellent facilities on the Normal site, just 5 minutes walk located between Telford's famous Menai suspension bridge and Stephenson's noted and picturesque original railway bridge - Britannia - you'll have access to Treborth. This houses flood lit 4G pitches, traditional grass pitches (football, rugby, hockey, even American football) together with a full size athletics running track. Whist you can access these facilities for general sport and leisure, you'll also experience practical classes here where you can start to put what you learn the lecture theatre into the real-world setting.