Bangor University Alumna needs your vote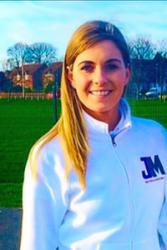 Jade MottleyA Bangor University Alumna is attempting to impress Virgin boss, Sir Richard Branson with her business idea.
Jade Mottley, 24 from Manchester graduated with a BSc Sports Science degree in 2012. She is now appealing for votes in the Virgin Media Business Pitch to Rich competition to win a share of £1m of financial support to develop her business 'Performance for All'.
During Jade's final year Bangor University she was awarded a national scholarship to work for Mencap Cymru on a Vodafone World of Difference program. She assisted with a Children In Need funding project called "Play Our Way (POW)". POW was a program to assist young ambassadors with intellectual or physical disability to gain access to leisure activities throughout Bangor and Anglesey. Inspired by this opportunity and experience Jade has continued to raise the profile of disability sport.
Working alongside a previous PhD student of Bangor University, Dr Niamh Reilly, Jade was able to gain fantastic mentorship and experience within the disability sport sector. She was very fortunate to work alongside Niamh who has the role of Technical Advisor for the Special Olympics GB (MATP).
After graduation Jade gained a role as a Fitness Coach at Manchester United for their Men's Deaf First team. Being given such a fantastic role and opportunity to work within disability sport she was made further made aware of the barriers individuals from the disability sector could face, in particular from the Deaf community.
Now Jade has founded her own business called 'Performance For All', she explains:
"Performance For All provides individuals the opportunity to better improve their health and fitness in the North West of England. Combining my profession with a childhood friend who is a Level 3 British Sign Language Communicator we have devised a mobile application for a concept called 'Visual Sport Language – VSL'. Our application has been pitched to Richard Branson and his Virgin Media Business department. The app will consist of videos containing Sign Language, written and spoken word to teach individuals sports related signs to enable inclusion for the deaf community within sport and assist in breaking down barriers for this community.
"Performance For All continues to work daily within the disability sport sector. I am fortunate to be the Personal Trainer of Special Olympian Kiera Byland from Bolton, Greater Manchester. It has been and continues to be a fantastic experience, being a part of Kiera's journey to the Special Olympics Summer Games in LA, July of this year. Following the Olympics, we hope to work alongside Kiera and her family further and set up a Performance For All Social Enterprise where one of our projects will be a North West Disability Cycling Hub."
The contest closes on Tuesday, May 5. Anyone can view the pitch and vote for Performance For All by visiting: http://www.virginmediabusiness.co.uk/pitch-to-rich/grow/performance-for-all-ltd/
Publication date: 1 May 2015