Bangor University Alumnus named as new performance director for short track speed skating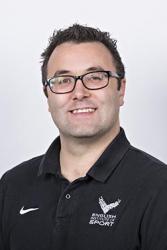 Stewart LaingA Bangor University alumnus has been named as the new Performance Director for Short Track Speed Skating where he will look to help Team GB achieve success heading into the Pyeongchang 2018 Winter Olympic Games and beyond.
Stewart Laing, 34, originally from Solihull and now lives in Swadlincote studied an undergraduate degree at the School of Sport, Health and Exercise Sciences from 1999-2001 and studied for his PhD between 2001-2007.
Stewart now takes up the prestigious role having previously served as Head Performance Pathway Scientist at the English Institute of Sport (EIS) and UK Sport, where he was a key figure in overseeing the support systems that identify and develop talented athletes.
Stewart has vast experience in high performance sport and prior to his career at the EIS, he held senior sport science roles at the Sport Wales Institute, Bangor University and the British Olympic Association (BOA). During his career, Stewart has worked extensively with the Short Track Speed Skating programme and supported numerous athletes and coaches, including Olympic bronze medallist Nicky Gooch.
After leaving Bangor, Stewart worked at the British Olympic Association as an exercise physiologist, Sport Wales and English Institute of Sport as a Senior Scientist and more recently for UK Sport/English Institute of Sport as the Head of Performance Pathway Science.
About his time at Bangor, Stewart said:
"I came to Bangor having an idea that I wanted to do something in sport, I didn't know what exactly. Studying in Bangor opened my eyes to the possibilities and gave me a really healthy foundation to build my career to date. Because the sports science course in Bangor and the post graduate courses are so applied it really set me up to step into my first role at the British Olympic Association. Whilst studying I never thought I'd use stats quite as much as I have, so I would urge all students to throw themselves into all aspects of the course as they never know when they'll call upon those skills."
Stewart will take up his role in January 2016 following a transition period with the current Interim Performance Director Vikki McPherson.
The Short Track Speed Skating World Class Programme is currently managed by the EIS after responsibility for it was temporarily transferred from the National Ice Skating Association (NISA) by UK Sport in order to develop the significant medal potential of the athletes.
EIS Director of Performance Solutions Mark Jarvis said: "Stewart was the outstanding candidate for the Performance Director role. He has strong background working in elite sport and significant experience with speed skating and its athletes. We know we have real talent in the Speed Skating World Class Programme and with Stewart at the helm, there is a strong chance that we can translate this into results."
Stewart Laing said: "I am hugely excited to be taking up the role of Performance Director for Short Track Speed Skating and making a huge impact. I truly believe that there is real medal potential for our athletes as we saw at recent World Cup events. Although there will of course be challenges to overcome, winning medals at world level will be our priority as we head toward the Pyeongchang 2018 Winter Olympics. Having already helped British speed skaters achieve notable victories, I am confident I can lead the team to further success and look forward to the journey ahead."
NISA Chief Executive Officer Ken Pendrey said: "The National Ice Skating Association are delighted that Stewart Laing has been appointed as the new Performance Director for Short Track Speed Skating. Stewart comes with an excellent knowledge of Short Track and vast experience in high performance sports. We wish him every success in his new role.
Publication date: 21 December 2015