Bangor University Mountain Runner to represent GB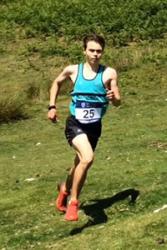 Chris RichardsA Bangor University student has recently been selected to represent Great Britain in the European Mountain Running Championships in Slovenia and the World Championships in Italy in July.
Chris Richards, 19, from Kendal has just completed his first year of a Sports Science degree course with a considerable amount of wins under his belt, most recently the England U20 Mountain Running title.
Chris has been into running since his first race at just 8 years old. He has represented Cumbria in the English Schools Cross Country each year throughout his time at secondary school. Chris held the English Fell Running Champion titles in the under 14 and under 16 age groups and has represented England five times in the Home International Mountain Races and in the International Youth Cup Race in Italy in 2014, where he won a team bronze medal. Last year Chris was a reserve for the GB team for the European Championships, missing out by just a few seconds.
Chris won two cross-country races for Bangor University during his first semester in the North Wales Grand Prix Cross-Country races and also ran his first 10k in December with an amazing time of 31:48 ranking him 16th in the UK U20 category.
Pleased with his achievements, Chris said: "I'm absolutely buzzing to have won both the trial races, it's been a big goal since I just missed out last year. This is my last year as a junior, so I had no reason to hold back. Bangor University provided a fantastic training environment for me to really push myself and learn more about training and recovery strategies through my studies.
"All the people in the Athletics Club have been super supportive and I absolutely loved going to races and socialising with them. Being recognised at the Athletic Union meal with half colours and blue awards for my efforts felt really special. As a Sport Science student I can relate a lot of the content to my own training so that can make it really interesting.
"Mountain running is similar to cross-country races in that the whole course is usually marked out, unlike Fell running which relies on navigation and route choices can vary. It's most famous in Italy where they go crazy for the sport and obviously have some of the most beautiful mountain ranges in the world. I'm really looking forward to the European and World Championships next month, it will be challenging, but I'm ready."
Publication date: 29 June 2017