Bangor University student selected for GB Women's Ultimate Squad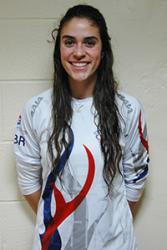 Rachel TurtonA Bangor University student has been selected for the GB Ultimate Women's squad to prepare for the World Ultimate & Guts Championships (WUGC) which will be held in London on 18-25 June.
Sports Science student and Sport Scholarship recipient, Rachel Turton, 20, from Ormskirk, Lancashire began playing Ultimate during her first year at Bangor University in 2013, where she quickly picked up the sport.
Ultimate is a fast-moving team sport enjoyed by millions of players the world over. Although frequently compared to sports like soccer or American Football, Ultimate has some unique features that set it apart. There are no referees. And it's played with a flying disc. To compete at the highest level, Ultimate players require speed, agility and endurance.
The WUGC is the pinnacle of the sport and over 120 teams will be competing in 5 divisions: Men's, Women's, Mixed, Masters Men's and Masters Women's. GB have teams in all 5 divisions and will be looking to turn home advantage into medals.
Rachel said: "Last October, I was invited to attend trials for the GB Senior Women's Squad and after a day of testing our athleticism, throwing abilities, and game skills, I made the training squad. After working exceptionally hard for 3 months, the final team was announced in late January. I am thrilled to have made the squad. All my hard work over the last 2 and a half years has paid off, and I'm extremely excited to see how we do against the rest of the World. The hard work will continue until the 18th of June, when 26 women's teams representing countries such as the USA, Japan, and Colombia will travel to London to compete.
"My aims for the future include to come in the top 5 at the World Championships 2016, to play at the next World U23 Ultimate Championships in Australia 2018, and to one day see the sport played in the Olympics, after receiving full recognition by the IOC in 2015."
Publication date: 26 February 2016