Bangor University student selected for Wales U20 Rugby team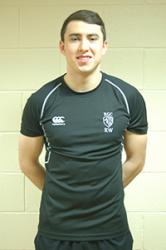 Rhun WilliamsA Bangor University Sport Science student has been selected for the Wales U20 international team for the up and coming 6 Nations Championship Rugby Union Tournament.
A University Sports Scholarship 2015 recipient, Rhun Williams, 18, from Pontrug has already been capped for the Wales U18 international squad and has recently signed a contract with the Cardiff Blues academy team.
Rhun said: "It is a big honour to represent Wales at all levels. I got the same thrill two years ago when I received a text message from the Wales manager, stating that I had been chosen for the U18 squad. Receiving my cap at the end of my first match against England at Swansea Rugby club was a fantastic feeling. It was also great to see the name of another player with strong ties to Bangor on the Swansea Captains register - Dewi Bebb. I hope to be able to replicate his contribution to north Wales rugby in the future.
"Although receiving my first cap was memorable, reaching the U20 squad has been my constant ambition during the year. To be chosen for the U20 squad is a big step forwards to becoming a professional rugby player. This will be the final stage before I start my professional career with the Cardiff Blues next year.
"There is a series of five games in the championship, three of which will be played at Eirias Park, Scotland, France and Italy. Playing at the home of RGC1404 will be a special thrill. The matches have been sold out during the last few years, and it will be amazing to hear the fans singing in Welsh. My family and friends will be there to support me, and it will be a very special experience.
"The additional training sessions that have taken place since I moved to RGC1404's first team have taken up a lot of my time. We train every day and I'm required to play a couple of games for the Cardiff Blues. Wales's fitness sessions in Cardiff have also been filling some weekends. I've had great support from my lecturers, and it will be an honour to represent the University professionally over the coming months.
Commenting on receiving a Sports Scholarship from the University, Rhun said: "The Scholarship has undoubtedly helped me with the cost of travelling back and forth to Colwyn Bay and travelling to Cardiff. I am very grateful to the University. The money has been extremely useful."
Rhun's first experience with the U20 team will be at Donnybrook in Ireland this weekend. There have been many close games between to two teams in recent years, however the Wales U20 team has come out on top winning 7 of the last 13 games between both teams. Rhun's first chance to play in front of the home crowd will be against Scotland on the 12th of February.
Wales U20 Team to face Ireland: Rhun Williams (RGC); Elis-Wyn Benham (Cardiff Blues), Harri Millard (Cardiff Blues), Owen Watkin (Ospreys), Keelan Giles (Ospreys); Dan Jones (Scarlets), Declan Smith (Scarlets); Corey Domachowski (Cardiff Blues), Dafydd Hughes (Scarlets), Dillon Lewis (Cardiff Blues), Shane Lewis-Hughes (Cardiff Blues), Adam Beard (Ospreys), Tom Phillips (captain, Scarlets), Shaun Evans (Scarlets), Harrison Keddie (Newport Gwent Dragons)
Replacements: Ifan Phillips (Scarlets), Robert Lewis (Cardiff Blues), Leon Brown (Newport Gwent Dragons), Bryce Morgan (Newport Gwent Dragons), Morgan Sieniawski (Cardiff Blues), Reuben Morgan-Williams (Ospreys), Jarrod Evans (Cardiff Blues), Joe Thomas (Ospreys)
Wales U20 Team Fixtures
Ireland U20 v Wales U20 (05/02/2016)
Wales U20 v Scotland U20 (12/02/2016)
Wales U20 v France U20 (27/02/2016)
England U20 v Wales U20 (11/03/2016)
Wales U20 v Italy U20 (18/03/2016)
Publication date: 4 February 2016