Bangor University Students attend UEFA Champions League Final Screening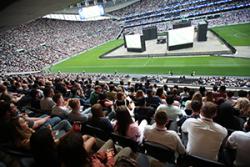 Two Bangor University students were selected for an exclusive leadership training recently and enjoyed the screening of the Champions League final game as part of Bangor University's partnership with Santander Universities.
Third year Sports and Exercise Psychology student, Aidan Clark and Mari Gibbard were invited to a Leadership Masterclass afternoon at Tottenham Hotspur's new stadium, led by renowned sports psychologist Jeremy Snape MSc.
After the Leadership Masterclass, the students had the opportunity to go on a stadium tour, followed by watching a live transmission of the biggest game of the season in the stands on giant screens.
Jeremy Snape MSc is an ex-England and county cricketer who has combined his playing experience with a Master's Degree in Sport Psychology to help both sporting and non-sporting organisations improve leadership and management performance.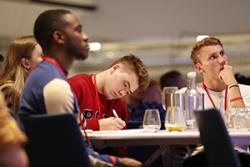 Matt Hutnell, Director of Santander Universities UK, said: "We're thrilled to have offered students from all our partner Universities this fantastic opportunity to attend a series of leadership activities whilst highlighting the positive and lasting impact that sports such as football have on people and communities around the world. We are committed to supporting higher education and hope the sessions provided an invaluable insight and the skills needed for students to build upon as they develop their careers."
About the experience, Aidan said: "The event was very interesting, and I learnt a lot by listening to the various elite sports men and women who attended. Overall it was very enjoyable and I am very thankful for the experience."
The event was also held in celebration of Santander's sponsorship of the UEFA Champions League. Santander's purpose is to help people and businesses prosper and the sponsorship enables Santander to deliver its purpose in new ways to more people and their communities.
Bryn Jones, Head of Knowledge Exchange, said: "Bangor University is proud to be a member of the Santander Universities network. This event is a great example of how our students benefit from their ongoing support for Enterprise, Education and Employability. Following the signing of our new three year agreement with Santander Universities we have exciting plans to roll out a range of opportunities to students at Bangor University."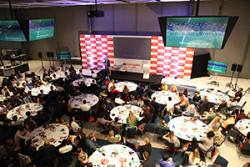 Santander, through its Santander Universities division, maintains partnerships with close to 1,200 academic institutions in 20 countries. Santander Universities was introduced in the UK in 2007 and the bank now has partnerships with over 80 universities, providing over £10m of funding in 2018 to support university staff and students. In 2015, Santander topped the Global list of Fortune 500 in investment in education (Source: Varkey Report/UNESCO).
Publication date: 3 June 2019