Dunn deal! Emily heads to World Championships in Australia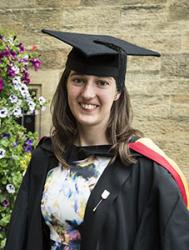 Emily DunnA Bangor University student will represent Great Britain at a prestigious cycle road race in Australia in September, following an impressive display at the Tour of Cambridgeshire Gran Fondo in June.
Emily Louise Dunn, from Devon and a postgraduate student at the School of Sport, Health and Exercise Sciences took part in the 130km amateur cycle race and finished within the top 25% of her category, earning her a place at the UCI Gran Fondo World Championships, to be held in Perth, Australia.
Emily, 22, entered the Tour of Cambridgeshire as a personal challenge, having only taken up cycling in 2013. Coming from a sporting family, Emily's main passion has always been basketball and for the past two years she has captained the University Women's Basketball team and was awarded the title of Sportswoman of the Year 2015-16 by the Athletic Union. In addition to her athletic prowess, Emily has this year achieved a 1st class Bachelor of Science degree in Sport, Health and Exercise Science and will begin a Master of Research degree in Cardiovascular Physiology here in 2016-17.
With sport playing such an important role in her life, Emily said that coming to study at Bangor was an easy choice:
'Coming from rural Devon and having grown up playing outdoor sports, Bangor was a natural choice for me. I came for an Open Day here and immediately fell in love with the location and the School of Sport, Health and Exercise Sciences and its academic reputation – the atmosphere was just so welcoming, I was left with no other alternative other than to come here!'
The UCI Gran Fondo World Championships take place in Perth, Australia between 1 and 4 September 2016.
Publication date: 11 July 2016