Four New Lecturers Appointed to Bangor University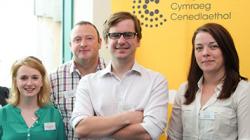 New Coleg Cymraeg Lecturers (l-r) :Eleri Jones, Gerwyn Owen, OwainWyn Jones and Manon Wyn WilliamsFor the fourth consecutive year, the Coleg Cymraeg Cenedlaethol has appointed individuals to work in various areas at Bangor University in order to increase the Welsh medium provision.
Eleri Jones has been appointed to expand provision in the subject area of Sports Psychology. Eleri provides sports psychology support to numerous athletes and is an advisor to Sport Wales. In her spare time Eleri is a qualified netball coach and referee and continues to play the sport at a competitive level.
Following a period studying at Cambridge and Oxford, Owain Wyn Jones completed a doctorate at Bangor University on historical writing in mediaeval Wales, under the auspices of the Coleg Cymraeg. Owain's sincere hope in the School of History, Welsh History and Archaeology is to increase confidence amongst Welsh speakers to follow part of their degree course through the medium of Welsh.
Also continuing his link with the Coleg, having received a postgraduate scholarship under the auspices of the Coleg in 2008 is Gerwyn Owen, who has been appointed to a lectureship in Film Studies. His main interest is European Cinema, which stems from a period living and working in Italy, and as part of his new post he will be teaching a module entitled 'European Cinema'.

Manon Wyn Williams from Anglesey has been appointed to develop provision in the area of scriptwriting and drama in the School of Welsh. Manon won Urdd Gobaith Cymru's Bryn Terfel Scholarship in 2007 for a dramatic performance. The same year, she won the Drama Medal at the Urdd National Eisteddfod, an achievement which she repeated in 2010.
Manon Wyn Williams said:
"It was an honour to be appointed to a lectureship in the subject area of scriptwriting at Bangor University, not only as it is a subject area about which I feel passionate, but also because I am very aware of the excellent reputation of the School of Welsh at Bangor University in the subject area of scriptwriting and drama on a national level. I am looking forward to offering a new expertise in drama and therefore developing and expanding the Welsh medium provision which is already in place."
Ioan Matthews, Chief Executive of the Coleg Cymraeg Cenedlaethol said:
''We were pleased to hear that Bangor University has succeeded in appointing these individuals under the Coleg Cymraeg's Academic Staffing Scheme and we wish them well as they begin to develop the provision in their relevant areas. The appointments will without doubt deliver an additional boost to the strong Welsh medium community which is already in place on the University campus.''
Publication date: 26 September 2014