Get in the Endurance Zone! EEG neurofeedback improves cycling performance
Francesca Mottola, a PhD researcher from the School of Sport Health and Exercise Sciences, Bangor University, has won second prize in the Young Researchers award at the FEPSAC International Congress for her innovative work on neurofeedback and exercise performance. Her prize-winning research showed that 12 minutes of electroencephalogram (EEG)-neurofeedback training before a cycling exercise can prolong the amount of time that people are able to exercise.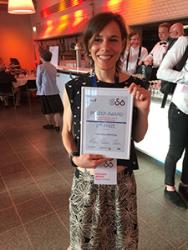 EEG-neurofeedback is a non-invasive intervention for modifying cortical brain activity. Such brain training involves measuring brain activation from sensors attached on the scalp and displaying it back to the trainees in real-time (in the form of auditory tones, or graphs on a computer screen). This live feedback informs the individuals about their actual level of brain activity compared to the desired pattern of activationso that the performers learn to shape the activity and reach the appropriate state. Recent evidence from the same laboratory endorses EEG-neurofeedback as a strategy to enhance task performance based on motor control (Cooke et al., 2018). However, prior to Francesca's research, no previous studies had explored the application of this technique in endurance whole-body exercise.
In Francesca's project 40 participants underwent the neurofeedback training to modify the extent to which the right or the left side of their brain was activated just before cycling on a stationary bike until exhaustion, while others watched a video recording and received no training (control group). Preliminary results of the project revealed that participants who were trained to increase relative left frontal activity exercised for longer than those who increased right activity or who had no training at all.This exciting finding suggests that neurofeedback to increase activity in the left side of the brain may be a simple, safe and efficient way for athletes to get themselves into the endurance zone right before they compete.
Encouraged by the promising results, further research is currently ongoing to determine why neurofeedback might have such an impressive effect on endurance performance.
Cooke, A. M., Bellomo, E., Gallicchio, G., & Ring, C. (2018). Neurofeedback Research in Sport: A Critical Review of the Field. In Handbook of Sport Neuroscience and Psychophysiology (pp. 282-303). Routledge.
Publication date: 31 July 2019