Hannah Takes Gold in Austria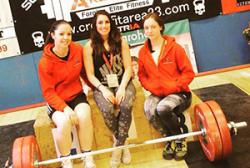 From left: Tiffany Brannan, Hannah Powell and Welsh team mate Stephanie OwensA Bangor University Sports Scholarship recipient recently won a gold medal in the 12th International European Weightlifting Grand Prix Vienna, Austria.
Hannah Powell, 22, from Birmingham is currently on her first year of a Sports Science degree and has been a weightlifter since she was 14 and now represents Great Britain.
Hannah joined Team Wales on the trip as a guest and a representative of Holyhead & Anglesey Weightlifting & Fitness Centre. Also representing Wales was Tiffany Brannan, Fitness Instructor at Canolfan Brailsford, the University's sport centre
The competition was well organised and included some of the best weightlifters across Europe including previous Olympians and Commonwealth Games athletes as well as some of the best up and coming lifters coming from the continent.
The Friday session saw both Tiffany and Hannah competing in the evening session. Tiffany showed massive determination and heart overcoming a shoulder injury she obtained in her final snatch attempt to sneak a Bronze medal on her last clean & Jerk. Her final total was 131kg made up of 55kg snatch and 76kg Clean & Jerk.
Hannah put in a very strong performance. With best lifts of 64kg in the snatch and 82kg in the Clean & Jerk saw her take the gold medal by a comfortable margin. As well as this Hannah took the fourth best Sinclair score across the whole competition.
Both have set strong foundations to build on going into the British Championships in June.
Publication date: 28 May 2015