Jessica converts passion for sports into rugby research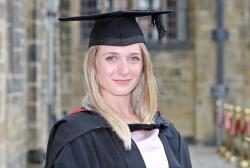 Jessica Lee HughesA student who applied to study at Bangor University through the UCAS Extra service after changing her chosen area of study graduates today with First Class honours.
Jessica Lee Hughes, 21, from Pwllheli, realised that rather than pursuing a career as a Physiotherapist, her sporty and physically-active family background could lead her towards a career in the field of Sports Science and it was during this realigning of her options that Jessica applied to Bangor. Having been attracted to the university by its balance of teaching and research activities, she embarked on a 3-year Bachelor of Science course in Sport, Health and Physical Education (SHAPE) at the university's School of Sport, Health and Exercise Sciences.
Jessica was determined to make the most of her time at Bangor and in addition to being an award-winning peer guide and school ambassador on Open Days, she also spent 3 months working at a summer camp in New York state and provided expertise to S4C's 'Y Siambr' series, a gameshow filmed in the slate caverns at Blaenau Ffestiniog.
Crediting the School of Sport, Health and Exercise Sciences' emphasis on employability, during her 3-year course, Jessica gained a Level 1 rugby coaching qualification and delivered sessions to primary and secondary schools in the region. This in turn led to her working with the Welsh Rugby Union at their half-term rugby camps and becoming a Strength and Conditioning coach with the regional Rygbi Gogledd Cymru (RGC) U16 and U18 squads.
Looking back on her 3 years as an undergraduate at the School of Sport, Health and Exercise Sciences, Jessica was keen to praise the School's Welsh-medium offering and credits it as being instrumental in her academic success:
'Having a personal tutor who I could discuss research projects and any problems with in Welsh, along with lab sessions, handouts and seminars all conducted through the medium of Welsh, was the support I needed in my degree. Not only did it aid me in achieving a First Class degree, it also improved my employability for the future.'
Jessica will remain at Bangor University for another year, as she embarks on a Master's degree in the field of rugby research alongside her role as part of the Strength and Conditioning team at RGC.
Related Stories
Local students awarded for their contribution to university life
Partnership with RGC Regional Rugby in North Wales: School of Sport, Health and Exercise Sciences
Publication date: 17 July 2019