Local students awarded for their contribution to university life
Two local students have won Peer Guide Awards at Bangor University this year.
Bangor University's innovative Peer Guiding scheme enables second and third year students to support new students. It has been running for over 20 years and is one of the ways in which the University ensures a supportive environment for its students.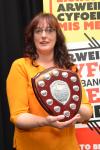 Dinah Jennings, a Childhood Studies student from Llandudno received the Peer Guide of the Year Award.Dinah Jennings from Llandudno received the annual Peer Guide of the Year Award. This was given in recognition of her outstanding work with new students.
A single mother from Llandudno, Dinah manages not only to study for a degree in Childhood Studies and look after her young son who has special educational needs, but also to contribute to the life of the University by acting as a Peer Guide and a Course Representative.
First year student Donna Dixon, from Groeslon and studying Childhood Studies was one of the students who nominated Dinah and she was invited to say a few words at the Awards night.
She said: "Deciding to become a full time student was an exciting prospect for me. However as Welcome Week approached, I began to feel nervous and anxious. The fear began to eclipse my excitement. That was until I met my Peer Guide on the familiarisation day for local students. She was welcoming, friendly and eased my anxiety. She answered my questions and offered me practical advice and guidance as well as introducing me to one of my key lecturers.
But it went beyond that first meeting, because she remained a point of contact and offered support. She even kept me updated on the arrangements made by other new students on my course on social media. I did not have an account but she ensured I was not left out and was still included.
I was extremely grateful when she agreed to meet me on the morning of Welcome Week as it put my mind at ease. She was present throughout and guided me from one location to the next, introducing me to my lecturers as well as other new student. Any apprehensions I had were smoothed away by her kindness, consideration and genuine concern for my well being. She made me feel at home in a culture which was all new to me. This just goes to show that the Peer Guiding Scheme is absolutely the very best thing that could happen to a new student."
In addition to the Shield, Dinah received £100 in High Street vouchers. Dinah chose to study at Bangor in order to better understand the dynamics of how her young son functions, works, thinks and operates- and she says that for her to find out the latest knowledge, she had to come to university. On completing her degree, she hopes to study a Masters degree in Education.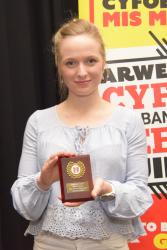 Jessica Lee Hughes from Pwllheli received the Most Effective Peer Guide Award.This year's Most Effective Peer Guide Award was presented to Jessica Lee Hughes from Pwllheli.
This Award is nominated by academic staff and is presented to the student who has made the greatest impact, perhaps by organising events at School level, and who shows commitment and reliability.
Jessica, who is 20 and is studying Sport Science, chose to be a Peer Guide as she felt there was room to increase the support for local students travelling in to study at Bangor University. She has managed to turn things around by organising events and opportunities for commuting students to settle in to University life.

Jessica chose to study to Bangor on realizing that there was an excellent Sport Science course on her doorstep. After graduating she is planning to study a Masters degree in Sport Science and Psychology and wants to work to promote children's rugby.
A former pupil of Ysgol Friars, Bangor and Ysgol Glan y Môr, Pwllheli, Jessica was delighted and surprised when her name was announced. She says that being a Peer Guide has enabled her to gain a great deal of confidence and experience in event organising. …
All the student Peer Guides were thanked for their contribution and presented with certificates.
Prof Carol Tully, Pro Vice-Chancellor (Students) added:
"Bangor University has one of the largest Peer Guide schemes of any UK University and their work in helping new students settle in to life at University has now become part of the character of our university. We are grateful to all the students for their valuable contribution."
Publication date: 26 March 2019