Making the game of golf 'Plane Easy'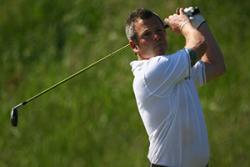 Matthew Wharton of The Golf Performance Studio, BangorDespite the health benefits of regular light to moderate exercise, levels of physical activity in adults in Wales continue to be poor. Golf has the potential to fill that gap and deliver numerous benefits; however participation in the sport has been in decline over recent years.
This is something that local golf coach Matthew Wharton (of The Golf Performance Studio, Bangor) a Bangor University alumnus is trying to address with his "Plane Easy" golfing method. The Plane Easy method is a teaching aid that identifies the correct plane for any individuals golf swing helping new golfers learn golfing skills at a faster pace and has already seen interest from the Professional Golf Association (PGA), who are interested in methods which accelerate the development of golf skills.
Matthew, who graduated from Bangor University in 2014, used his undergraduate course in Sports and Exercise Psychology to develop the "Plane Easy" golf method, looking at different ways of speeding up the learning process for golf by employing an external focus of attention to accelerate learning. He's now developing the method further in a collaborative research project with Dr Andy Cooke of the School of Sport, Health and Exercise Sciences (SSHES), supported by Access to Masters (ATM).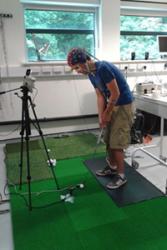 A research participant.Matthew was approached by Dr Andy Cooke and Dr James Hardy of SSHES to expand on his undergraduate study investigating what happens in the brain and the body when people learn motor skills. Dr Cooke commented that "what we are trying to do is to accurately record people's brain activity while doing certain movements; my own research investigated the difference in brain activity between professional golfers and complete beginners. This fits perfectly with that project. As a result of the study we will obtain some cutting-edge neuroscientific evidence to better understand and further advance the 'Plane Easy' method".
The project is being supported by ATM, an ESF project that links companies with academics and students to test new products, services and methods. The student working on the project, Eduardo Bellomo, said that "being part of a real-life project while I am studying is a great opportunity for me; I am able to see how the 'Plane Easy' method is working with clients literally in the field. This is a fantastic step for me in my aim to become a sports psychologist".
Matthew was delighted to have the opportunity to be involved with ATM saying that "when I graduated I wanted to maintain a link with the University, ATM has allowed my research to be continued while I can concentrate on developing the business, it has the potential for me to be a voice of authority and market leader with a scientifically verified product, a product that will give me a unique selling point for my service".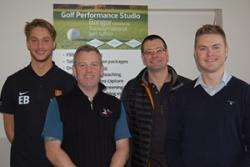 Eduardo Bellomo (ATM Student), Matthew Wharton (The Golf Performance Studio), Dr James Hardy (SSHES), Dr Andy Cooke (SSHES).Dr Penny Dowdney, the ATM project manager, said that "this is a double win for us as a project; it is providing Eduardo with the opportunity to gain a masters qualification with real experience working in a field that he would like to continue in professionally, while facilitating the continuation of Matthew's research within the school".
ATM is backed with £12.3 million from the Convergence European Social Fund (ESF) through the Welsh Assembly Government. Further funding is provided by the Welsh universities and their private sector partners. Through the Access to Masters (ATM) programme, led by Swansea, over 1,400 Masters degrees with annual bursaries and tuition funding worth up to £8,450 will be available to help scholars gain the skills they need to drive forward innovation in businesses in Wales.


Publication date: 9 December 2014