Nominated for Volunteer of the Year; evidence that lecturers don't always get paid to teach…
James Hardy, senior lecturer in sport psychology, has been shortlisted for Volunteer of the year at this Saturday's North Wales Gymnastics Awards. James coaches Men's Artistic Gymnastics at Bangor Gymnastics Club, which won the prestigious Welsh Gym Club of the year in 2017.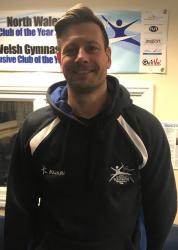 In addition to coaching gymnastics, James provides further expertise in the form of psychological support to the clubs athletes. This activity has also helped forge a strong partnership between the club and the School of Sport, Health and Exercise Sciences. Specifically by offering the club free access to his Sports Psychology expertise and by incorporating gymnastics practical sessions into his University teaching; ensuring Bangor University students also gain form his involvement with the gymnastic club.
Publication date: 25 January 2019