Rugby Union injury risk research at Bangor University
Seren Evans is a PhD researcher at Bangor University, and is researching the impact of injury risk within Rugby Union funded by the Coleg Cymraeg. Her research includes in depth injury surveillance over a 4-year period, identifying the most common and most severe injuries within the sport.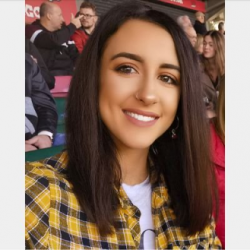 Concussion has a high prevalence within rugby union, and continues to be a cause of concern for medical staff, match officials and player welfare and is a huge focus for the sports governing bodies at the moment. There is possible legal action by former players against rugby union authorities with a number of former players diagnosed with long-term brain injuries looking to challenge World Rugby, the Rugby Football Union and the Welsh Rugby Union in the courts.
As Seren discussed on her BBC Radio Cymru interview (interview in Welsh available until 26th March 2022 on link below), we have seen an increase in the number of Head Injury Assessments (HIA) during international matches of the Six Nations Tournament, and this is due to enhanced research into the long-term and short-term effects of sustaining a concussion in an attempt to protect and influence player career longevity and future well-being.
Rugby is a hugely important sport for Wales and this research at Bangor may ultimately help to protect players from injury.
Listen again to Seren talking to Aled Hughes on BBC Radio Cymru:
https://www.bbc.co.uk/sounds/play/m000sjmv (starts at 37 min)
Publication date: 10 March 2021