Smashing down the hurdles – Libby graduates with a first-class Sport & Exercise Psychology degree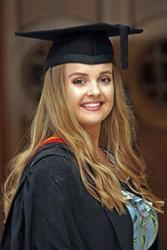 Libby SteeleLibby Steele, 21, from Trentham, Stoke-on-Trent, Staffordshire graduates with a first-class BSc Sport and Exercise Psychology degree this week after playing a key role in developing a new starting system for deaf athletes.
Ever since a young age, Libby has always had a strong interest for both participating and watching sport. She found that she also enjoyed studying sport through GCSE and A-Level Physical Education and discovered an intrigue for psychology, which led her to look at Sport Psychology courses at university. Libby discovered the perfect course and university for her through the clearing system.
Libby explained: "I was born deaf, so I have had to overcome adversity with regards to communication, social inclusion and other barriers my entire life. Since becoming older, I realised the extent of the inequalities faced by the deaf community and felt like I had to do something to change these inequalities. Combining my love for studying sport psychology and my hearing impairment, I came up with the idea of developing a new standardised starting system that would allow deaf athletes to compete fairly alongside hearing athletes.
"One of my highlights at University was participating in a collaborative research project between the University and England Athletics/UK Deaf Sport. The project aimed to inform the development of a standardised starting system in track and field athletics for deaf athletes by investigating reaction time differences between hearing and non-hearing athletes, as well as between different sensory stimuli including auditory, visual, tactile and bi-modal.
"At the moment there is no Paralympic pathway for deaf athletes, who currently compete alongside hearing athletes using a variety of different starting systems. I think that this project can not only inform the development of a fair starting system, but in turn, help promote inclusivity and participation for these athletes, making the talent pathway more accessible at both ends of the performance spectrum.
"It feels scary but exciting to be graduating, I can't quite believe my three years of undergraduate studies are over already. I am so proud of myself for graduating with a first-class honours degree, I have worked so hard to achieve my classification and I'm just glad the hard work payed off. I am also proud of how much my confidence and self-assurance has grown since starting university.
"My next step is to return to Bangor for a research Masters and PhD and continue with my research project. I am also striving to be an advocate for deaf sport and allow deaf athletes to have the same opportunities as any other athlete."
Publication date: 18 July 2018