'Team Anglesey' have specialist support for the Island Games!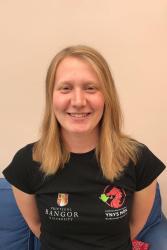 Clare Barwood is off to provide support to Anglesey's team at the Island Games in Gibraltar.With Island Games fever ready to hit North Wales when the 2019 Gibraltar Island games begin on Saturday 6th July, the School of Sport Health and Exercise Sciences at Bangor University have teamed up with Ynys Môn Island Games Association to provide expert support to Island games athletes in their pursuit for success at the games.
Clare Barwood, a PhD researcher at Bangor University has been providing comprehensive fitness testing and psychological support to Ynys Môn Island Games athletes ahead of the Island Games. Clare will also be accompanying the squad to Gibraltar as their sport scientist during the games.
The International island Games takes place every two years with 24 member Islands from around the globe competing for medals across 18 different sports. Ynys Môn is a regular competitor in the games, and the 2019 Games in Gibraltar will be no different. However, this is the first time that the Ynys Môn Island Games Association have teamed up with Bangor University to add dedicated sport science support to their armoury.
Clare has been particularly active over the last 18 months with sports such as cycling, triathlon, athletics and football to measure the fitness of their athletes and to also provide psychological profiling for these athletes. Clare has also been conducting very novel and exciting research for the Ynys Môn Island Games Association, to measure how the psychological make-up of athletes might affect the way that they recover from exercise before, and during, the games.
Clare said of her experience:
"Ynys Mon are really trying to push forward sport on the Island with the hope of holding the island games in the future. Working with Ynys Mon IGAA is incredibly rewarding as well as a great way to learn about how to apply my research and hopefully create impact for Ynys Mon IGAA going forward."
In addition to the forthcoming Gibraltar event, the 2019 inter-island Games football tournament has just been hosted right here on Anglesey with an estimated turnout of over 14000 spectators across the whole tournament. This saw the Ynys Môn women team make history and reach the final for the first time ever while Ynys Môn men picked up gold for the first time in 20 years. Clare worked closely with the women's team by monitoring their fitness data during each game which helped the team understand and improve their performance.
Ynys Môn Athletics co-ordinator Barry Edwards commented:
"The partnership between the Ynys Môn Island Games Association and Bangor University has been a huge success. Many athletes are in the best shape and state of their careers thanks to Clare and the team at Bangor University as Ynys Môn aims to bring back as many medals from Gibraltar as possible. With athletes, parents and coaches benefiting, Gibraltar will only be the starting point to this new partnership as the hard work and preparation is also focused on long term goals for Guernsey 2021, Orkney 2023 and Ynys Mon 2025 games."
Clare's research scholarship is funded under the Knowledge Economy Skills Scholarships (KESS) Programme, a major European Convergence programme led by Bangor University on behalf of the HE sector in Wales. KESS II is part-funded by the Welsh Government's European Social Fund (ESF) Convergence programme for West Wales and the Valleys and supports collaborative research projects (Research Masters and PhD) with external partners based in the Convergence area of Wales (West Wales and the Valleys).
Publication date: 28 June 2019