Bangor Students representing Welsh Universities in national sporting competition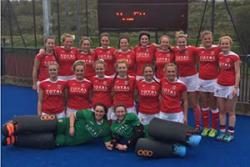 The Welsh Universities Hockey TeamTen Bangor University female students were recently selected to represent the Welsh Universities Teams in the Home Nations competition.
After a five year break, the Home Nations, a sporting competition where university students represent Wales, England and Scotland, made a return and was hosted by the University of Edinburgh.
This year's event saw teams compete in Men's and Women's Football, Men's and Women's Hockey and Men's and Women's Rugby 7s.
The Welsh teams were selected from across Wales' universities, ten of which were from Bangor University. Selection for the Welsh Universities team represents a significant achievement and is often the pinnacle moment in a student's sporting career.
The students selected for the Welsh Universities Hockey team were Bethan Ellis, Lois Evans, Celina Hacket, Beth Kenny and Meghan Wharton.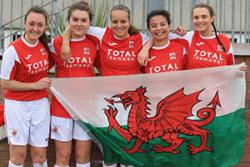 L-R: Jemma Parfitt, Mari Gibbard, Keren Allen, Jo Bramwell and Elizabeth Neatherway - selected for the Women's Football TeamThe students selected to represent Welsh Universities in the Women's Football tournaments were Jemma Parfitt, Mari Gibbard, Keren Allen, Jo Bramwell and Elizabeth Neatherway.
This achievement culminated a fantastic year for Bangor University Women's Football as they won their BUCS football league (Division 2A) and also the BUCS futsal league (Division 1A), they beat Aberystwyth 8 – 0 in Varsity and also enjoyed good cup runs in both Football and Futsal resulting in achieving the highest scoring BUCS points team at Bangor University in 2016/17.
Will Baxter, Bangor University Women's Football Team Coach and recently appointed Welsh Universities Women's Football Coach, said:
"It was an honour to be appointed Head Coach of the Women's Football Team for the Home Nations, they were an absolute pleasure to work with. The standard of talent in women's football within the Welsh Universities sector is growing every year and the Home Nations is a fantastic opportunity for them to showcase it. Congratulations to the Bangor University students that made it in to their respective squads, it was a thoroughly deserved achievement which they all worked hard for. Hopefully, the Home Nations will once again become a permanent fixture in the UK universities sporting calendar."
Bangor University Director of Sport and Welsh Student Sport Chairman, Richard Bennett added:
"It was great to see Bangor University so well represented at the Home Nations and the students did themselves and the University proud. The Home Nations is a fantastic showcase and we are all extremely pleased that it is back up and running."
Publication date: 2 May 2017