BUCS Indoor Rowing Championships 2015-16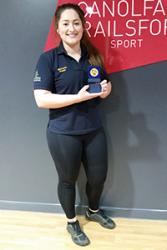 Stephanie FosterOver 1,000 competitors from 35 institutions entered the British Universities & Colleges Sport Indoor Rowing Championships recently.
Bangor University student Stephanie Foster came away with a gold medal in the Women's Beginner category.
Steph, 19, from Wigan is studying for an Applied Terrestrial and Marine Ecology degree at the School of Environment, Natural Resources and Geography.
Steph said: "I have been competing in CrossFit and Weightlifting tournaments for the past 2 years and had quite a bit of experience on an erg, but the BUCS indoors was my first exclusively rowing competition.
"I'm really excited about winning the gold medal. I have been training really hard, and to have won something feels great! The Bangor Rowing Team has quite a few competitions coming up over the next few months so I'm excited to be a part of that and see how the novice squad can progress."
Iona Williams, Sports Development Officer at Canolfan Brailsford, said: "This is a fantastic achievement and the first BUCS gold medal for a Bangor University student in a rowing event."
BUCS and British Rowing work together to support a series of regional indoor rowing events hosted and organised by university clubs across the UK. This is known as the University Indoor Rowing Series (UIRS). Times set within the series qualify for the BUCS Indoor Rowing Championships.
Publication date: 12 February 2016