Eight Bangor University students selected for Welsh Universities squads
Eight Bangor University students have been selected for Welsh Universities squads that will partake in the biannual Home Nations tournament taking place between 16 – 18 April in both Cardiff and Glasgow.
Men's and Women's Football teams representing Welsh Universities will take on their English and Scottish counterparts in Cardiff, with Men's and Women's Hockey matches taking place in Glasgow and Cardiff respectively. Netball matches between the nations will be hosted by the University of Hertfordshire.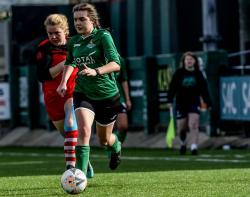 Mari Gibbard
The teams then compete in a round robin tournament, with each game counting towards the overall Home Nation championship.
Bangor University's contingent in the Welsh Universities Women's Football squad include Mari Gibbard (4th year, Chemistry Masters) and Joanna Bramwell (4th year, Sport and Exercise Psychology Masters) who are both playing in their second tournament after representing Wales in Edinburgh two years ago. Also included in the squad is Morgan Difalco, a 3rd year Marine Zoology student.
Featuring in the Men's Football squad are Aidan Clark (3rd year, Sport and Exercise Psychology), Mark Hawkins (2nd year, Sport Science) and Harry Galeotti (1st year, Sports Science). Hockey player Katharine Oliver (2nd year, Environmental Science) features in the Women's team and and Arran de Sousa-Butterworth (2nd year, Sports Science) in the corresponding Men's squad.
This caps a brilliant few weeks for Bangor University students and their respective teams, following a 5-0 victory over Aberystwyth for the Women's Football team, with captain Joanna Bramwell netting twice in what was the final Bangor University game for the three girls selected for the Welsh Universities team. In the corresponding fixture, Bangor University Men's Football trounced their mid-Wales rivals 6 – 0 in front of a crowd of around 1,800 spectators, with Aidan Clark scoring 4 and providing an assist. Harry Galeotti assisted 4 goals and keeper Mark Hawkins kept a clean sheet. The Women's Hockey team also recorded a symbolic win by beating Aberystwyth 3 – 0, with Katharine Oliver getting on the score sheet and helping to turn the tide on a series of defeats suffered at the hands of the Aber ladies.
Will Baxter, Bangor University Football Coach and Head Coach of the Welsh Universities Women's Football squad, said:
"It was an honour to be appointed head coach of the Welsh Universities Women's football team back in 2017, and a privilege to coach the girls up in Scotland. The standard of talent in sport within the Welsh Universities sector is growing every year and the Home Nations competition is a fantastic opportunity for that talent to be showcased. I'd like to congratulate the 8 students for making their respective squads. It's a fantastic achievement and a brilliant opportunity for them that they all worked hard for and thoroughly deserved."
This was echoed by Bangor University Director of Sport and Commercial Services and Welsh Student Sport Chair, Richard Bennett, who added:
"It is great to see Bangor University so well-represented again for the Welsh Universities squads. The Home Nations allows for the students to compete and play alongside the best that the University Sports sector has to offer and we wish them all the best in the competition."
Publication date: 15 April 2019