First BUCS Team Bronze for Bangor University Judo Club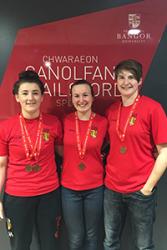 L-R: Sam Hemming, Aimee Boyd & Ola FinniganBangor University's Judo Club won their first ever team medal at the British Universities and Colleges Sport (BUCS) Championships in Sheffield recently.
Sam Hemming, 22, from Hereford is studying Law and is a Sports Scholarship recipient. She is currently ranked 12th in the UK. Sam also won the bronze medal in the -78kg women's advanced individuals.
Sam said: "I'm really pleased to win my bronze as I beat the one that pipped me to the post last year. I also beat the one who is currently ranked 8th in the UK and was also the highest grade entered in the competition.
Aimée Boyd, 22 from Walsall studies Psychology with International Experience.
Aimée said: "It's really amazing to have won bronze at such a prestigious event, and the experience was even better with my two best friends competing alongside me. Steve, our coach, Sam and Ola, have been really supportive and have helped me progress to the level I'm competing at now. I'm looking forward to competing in Lommel over Easter and the Women's Open in July and I'm hoping to achieve my competitive Dan grade before the end of the year.
Ola Finnigan, 21 from Orkney, is studying Sport Science and is currently ranked 15th in -78kg category in the UK.
Ola said "I'm really happy with our performance at BUCS. It was a really hard, high level competition and I think we did very well. During the three years I've been participating in judo I've done so much, and it's nice to finish university with another BUCS medal. I'm aiming to get my second Dan before I graduate."
The club will be heading to the Lommel International in Belgium at Easter and hope to continue with the club's international success following on from Malta last year.
Related stories:
An excellent year for Samantha
Publication date: 4 March 2016