PhD student wins Welsh Tennis Titles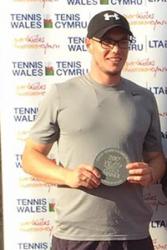 David Stephen ParryA Bangor University PhD student has recently scooped two major titles at the Welsh Tennis Championships 2017.
David Stephen Parry, 26, from Caernarfon took the Open Men's Singles and Open Men's Doubles titles at the competition where over 150 players took part.
Having played tennis since the age of 5, David currently represents Bangor Tennis Club, Graves Tennis Centre (Sheffield), Ynys Môn (Island Games) and North Wales in various competitions and is a member of the Bangor University Tennis Club and the Bangor University Squash Club.
Earlier on in the year, David represented Ynys Môn at the Island Games in Gotland, Sweden and the North Wales County Cup.
Pleased with his recent achievements, David said: "I'll now be concentrating on completing my PhD, but I'll also be playing competitively, representing the University at BUCS competitions. I've been unbeaten for the last 4 years, so I hope to keep it that way! When time allows, I'll also be at competitions on the weekends. If possible, I will also compete in ITF sanctioned events as my long term goal is to achieve a Pro ranking point."
Based in the School of Psychology, David's PhD focuses on Behaviour Change in Passive Welsh speakers, funded by the Coleg Cymraeg Cenedlaethol.
Publication date: 22 September 2017