Silver for Joe at the BUCS Athletics Cross Country Championships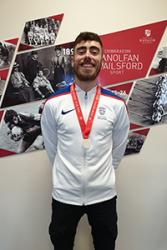 Joe StewardA Bangor University Sports Scholarship recipient won silver at the BUCS Athletics Cross Country Championships in Holyrood Park, Edinburgh recently.
Zoology and Conservation student, Joe Steward, 23, from Middleton, Manchester was recently awarded his second Sports Scholarship to recognise and support his sporting excellence and achievement.
Joe said: "Under normal circumstances, this achievement would have provided me with a fantastic opportunity to compete at the World University Cross Country games in Morocco in a couple of weeks. However, the race has been postponed due to the coronavirus outbreak. It's unfortunate, but I had a good run at the BUCS Cross-Country Championships claiming another silver medal which softened the blow a little!
"I've been frustrated with injury issues for the last two years, not being able to train consistently and perform to the standard I know I'm capable of. The Sports Scholarship has funded physio and a rehab programme which have been instrumental in me returning to full fitness and running well again. A huge thank you to everyone who helped out!"
As the Cross-Country season comes to an end, Joe's training will focus on mountain races. He will be competing in a couple of fell races first, and then concentrate on the trials for European Mountain Running Championships held in Portugal at the beginning of June.
Publication date: 5 March 2020