Tesni Evans serves up stunning win at National Championships
Tesni Evans, a Bangor University Local Athlete Bursary winner, recorded a stunning victory at the Women's Final of the National Squash Championships in Manchester on Sunday (18 February), becoming the first Welsh woman to do so and further cementing her position as the most successful female squash player Wales has produced.
Evans, currently ranked 1st in Wales and 12th in the world, reached the final in spectacular fashion, beating reigning champion and former World No. 1, Laura Massaro, in straight games and setting up a tantalising final with Alison Waters, herself a former National Championship winner.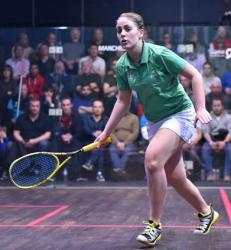 Despite being administered by the sport's governing body in England, England Squash, the tournament is open to players from all the home nations, though in recent years, English players have dominated both Women's and Men's categories at the knockout stages. Evans' run to the final and her subsequent 3-0 victory broke that dominance in style, making use of disciplined rally play and unconventional shots such as the short boast to completely dominate her opponent.
Commenting on her victory, Bangor University's Director of Sport and Commercial Services, said:
"It's a huge achievement for Tesni and I'm glad that the facilities at Bangor University have been a valuable part of her training programme. As home to the North Wales National Squash Centre, Canolfan Brailsford is the only place in North Wales that can provide a venue for professional squash - which uses a lower tin height than that used for recreational play. Alongside her success on court, Tesni has been a great ambassador for squash at Bangor both as a role model for our student club as well as regularly presenting awards at many of the local and national events we hold."
Each year Canolfan Brailsford awards bursaries to elite athletes from the local community. In addition to Tesni, awards were also given to Maisie Potter from Bangor, a snowboarder narrowly missing out selection for Team GB selection for 2018 Winter Olympics due to an injury; Dave Parry from Caernarfon, a Tennis player ranked number 1 in Wales; and Connor Burns from Bangor, Welsh Boxing Champion and part of the GB development squad.
Publication date: 19 February 2018