Top eight finish at World Youth Weightlifting Championships for Catrin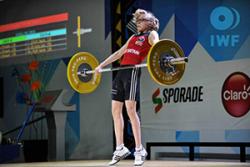 Catrin JonesBangor University local sports bursary recipient and weightlifter Catrin Jones, 15, recently made her international debut in Lima, Peru.
Friars School pupil Catrin secured a top eight finish at the International Weightlifting Federation World Youth Championships in the 44kg category, smashing the British and Welsh Weight Lifting records from U15 to U17 level. Catrin also lifted a personal best of 120kg - nearly three times her own bodyweight!
Catrin said: "It was a fantastic experience competing against the best youth athletes in the world and to come 8th in this world class competition, I am very pleased with the result."
Catrin is coached by her father Dave Jones who is the University's Sport Centre Health and Fitness Manager. He said: "Catrin has gone above expectations, as breaking into the top ten in the world on her first big international competition is a brilliant achievement, and by doing so, she broke the British records in her weight category."
Catrin is funded by UK Sport as part of British Weight Lifting's World Class Programme. Ashley Metcalfe, British Weight Lifting CEO commented on her success: "It is fantastic to see our young athletes performing at such a competitive level on the world stage; Catrin's achievements at her first ever international competition shows great potential.
"We work hard to provide our athletes with the quality of coaching that they need to compete at this level and this wouldn't be possible without the support we receive from UK Sport; the dedication of our athletes is unquestionable and this competition has been a fantastic showcase for British Weight Lifting and we are very proud of Catrin's achievements."
Currently a member of the British Weight Lifting Youth Development Squad, Catrin has been earmarked as a potential member of Team GB for the Tokyo 2020 Olympic Games.
For many years, Bangor University has supported its students with sporting ability by offering a number of Sports Scholarships for students studying for a degree in any subject area.
These Sports Scholarships, which this year totalled nearly £20,000, are awarded to recognise and support sporting excellence and achievement. They are aimed at helping talented and high performance students to combine their academic study and sporting performance to assist them in achieving their full potential.
Additionally, each year Canolfan Brailsford, the University's sports centre, awards a number of local bursaries to elite athletes from the local community. This year's awards went to Catrin and also to Seth Casidsid. A Bangor Psychology graduate, Seth, 25, is the Welsh Open Weightlifting Champion at 62kg and Current Welsh Champion at 56kg. He came 2nd in the British Senior Championships and his aims are to reach the Commonwealth Games in 2018 which will be held in Queensland, Australia.
Professor Carol Tully, Pro Vice-Chancellor, said: "We are delighted to be able to help talented local athletes reach their full potential through access to our state of the art facilities. Catrin's record breaking performance is one we are particularly proud to be associated with."
Publication date: 16 April 2015