Globetrotting student returns to Bangor to pick up an award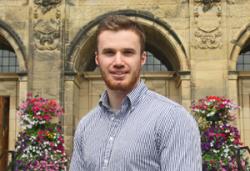 Matthew MulesNow travelling the world working with a range of international suppliers who supply Waitrose, a Bangor University postgraduate student returned to Bangor this week to pick up an award for his excellent dissertation.
Matthew James Mules, 24, from Harare, Zimbabwe completed his MSc Environmental and Business Management degree at the School of the Environment, Natural Resources and Geography in September 2016. He returned to Bangor for the 2017 summer graduation celebrations to receive the joint award for the highest dissertation mark of the 2015/16 cohort.
With quite a diverse background, Matthew spent his early years growing up in Zimbabwe as his parents ran a commercial tobacco and maize operation. Due to the political instability in the early 2000s the family made the decision to relocate to Kenya with a brief stint in Sudan. After finishing his A Levels, Matthew made the move across to the UK in 2011.
Matthew explains:
"I chose to study at Bangor as the course offer was unique and diverse, integrating environmental management into business practise. The course content was detailed and valuable and on completion I believed my skill set I would have acquired would prove to be an invaluable asset to use when seeking employment. Additionally, there was a more personal draw with a number of Kenyan students at Bangor who I knew/went to school with. From that perspective it's always nice to have some-one from home to relate to.
"Moving to a different continent and integrating into a different society was hard to begin with. Adapting and understanding different cultures and backgrounds was interesting but you soon get used. It's possible to turn it to your advantage as you'll meet people from all walks of life so you learn to be flexible as well as broadening your global awareness.
"One of my modules included a project that looked at the feasibility of installing a solar power plant on a roof on a vegetable packing facility on a commercial agricultural set-up in Kenya. The proposal highlighted the cost benefit analysis that this project could potentially bring both in the short and long-term by reducing costs, making the farm more self-sustainable and eco-friendly. On completion I submitted the project to the organisation who used it as a building platform to conduct further more detailed research to make the project become a reality.
"Bangor has a host of opportunities through its clubs and societies and I was part of the Officer Training Corps (UTC) for one year. The various training exercises could often be demanding helping develop both physical and mental strength. Leadership and strategic planning where a number of key skills I developed for taking part and could be transferred across in everyday life.
"The extensive array of outdoor pursuits on your doorstep meant you could never have a dull moment. Whether it was climbing the mountains of Snowdonia to kite surfing on Rhosneigr beach, you could always engage in something exciting, no matter the time of year. That supplemented with a student lifestyle made my overall experience unforgettable.
"There is a significant step up intellectually when moving from an Undergraduate to a Masters. Fundamentally after a tough year full of challenges and coming out the other end with a degree it was extremely rewarding. I felt it better prepared me for the working world as the modules where centred around business scenarios and made the transition from uni to working life that little bit easier.
"I'm now on a graduate scheme with Berryworld, and as part of that scheme I'm currently on a six-month appointment working for Waitrose. The appointment gives me the opportunity to travel the world working with organisations that supply the UK's leading supermarkets, with the aim would be to assist in developing their Corporate Social Responsibility and Sustainability policies. In the future I hope to become an entrepreneur and run my own agricultural based business using the skills and knowledge I learnt from my Masters."
Publication date: 18 July 2017