Dr Emilia Uzoamaka Anagbogu-Ezenwa (Visiting Professor)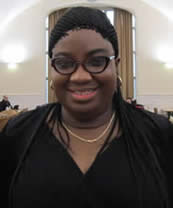 Dr Emilia Anagbogu-Ezenwa serves as civilian Legal Adviser to the National Defence College, Abuja, 2002. Prior to this appointment she practised law as a Barrister and Solicitor of the Supreme Court of Nigeria. She completed her PhD here in Wales on the Bangor campus in 2012, her doctoral work in Insurance Law had been described by Professor Joe Irukwu (the father of Nigerian Insurance Law) as "having the ability to contribute to Nigerian Insurance Law Reform and equally enhance the economy, if properly harnessed." She has since conducted post-doctoral research at Bangor and at the National Defence College Abuja in the insurance area, most recently presenting some of her findings at Baruch College New York, where she presented on "Polyglosia and the Insured in Nigeria".
An insurance law expert and consultant to many bodies, Dr Emilia is a member of many prestigious professional bodies, notable amongst which are: the Nigerian Bar Association; Fellow, International Institute of Law & Medicine; Fellow, Centre for International Legal Studies, Austria; & Associate Member, CILS, amongst others.
For several years she has served as co-ordinator of academic co-operation between the Nigerian Defence College and Bangor University, and also co-ordinates the Nigerian Air Force / Law School procurement education programme at Masters level. She is Legal Adviser pro bono to the Women's Action Committee, an NGO with interest in women and girl/child education and development in Nigeria.
With numerous publications in both local and international journals, Dr Emilia is the Nigerian author for the Nigerian Chapter on International Insurance Law and Regulation published by Thomson Reuters West, the latest edition is expected in March 2017. Her work on Insurance Contracts in Nigerian Law was published by Kluwer in 2015. She has also written in the area of Public Procurement, published inter alia by Thomson Reuters.