"Life as an Attorney General of British Antarctica".
Location:

Mathias Hall, Music Building, Bangor University, LL57 2DG

Time:

Friday 13 March 2020, 16:00–18:00

Presenter:

School of Law

Contact:

More information:
"Life as an Attorney General of British Antarctica".
Mr James Maitland Wood QC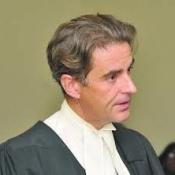 Mr James Maitland Wood QC is Attorney General for the British Antarctic Territory and General Counsel for the British Indian Ocean Territory, appointed in August 2014.
Prior to this he was Attorney General for Montserrat (2008 – 2011), Attorney General for Anguilla (2011 – 2014) and Crown Counsel in St Lucia (2007 – 2008).
Educated at the University of Wales, Aberystwyth, where he studied Law, he was called to the Bar in 1989 and appointed Queen's Counsel in 2013. For the last 20 years he has been a tenant at Cornwall Street Chambers in Birmingham.
Between 2008 and 2014, he was Director of the Regional Law Revision Centre in Anguilla. Set up in 2007 with assistance from the Department for International Development (UK), the Centre now successfully operates without financial assistance and provides law revision services throughout the Caribbean.
Mr Maitland Wood QC conducts public and private work in the Caribbean, assists environmental protection organisations and provides presentations at Diplomatic Academy workshops for the Foreign and Commonwealth Office.