Student Profile: Elly Chan – Music BMus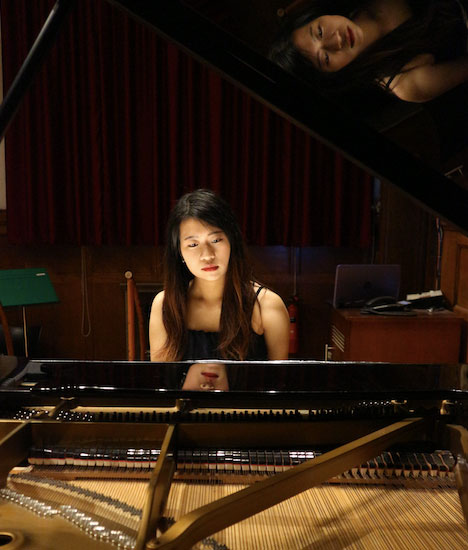 Elly Chan
What initially attracted you to study at Bangor University?
Bangor University is situated in a very attractive location – It is surrounded by the mountain and seaside. The Music School offers a wide range of modules that I was interested in.
What was your first impression when you arrived at Bangor University?
Bangor University has a close-knit community, people and staffs here were really friendly and helpful! The main arts building and library were just gorgeous and it wowed me when I saw it for the first time.
Tell us what you like about the academic teaching quality at Bangor University?
The teaching quality at Bangor University is superb – The professors are very helpful and always very inspiring. They are supportive towards students and provide lots of positive feedback and guidance. The facilities of the Music school are relatively new too.
Why is Bangor University a good choice for the course you are studying?
I was living in a city and I would like to study music in countryside as it gives me more time to be concentrating on music making. The school also provides more performing opportunities for me as a musician and performer.
What is the social life like in Bangor?
It is very easy to make friends here because most of the friends (I have met) at Bangor University are very outgoing and friendly. I have involved in the University Chorus and I was a member in the Music Society.
What do you think about Bangor and the surrounding area?
I think it is the best place to study and to live in Bangor. It is not only studying but during free days you can just have a stroll around Bangor Pier after long weeks of studying… Sometimes I will have a one-day trip to Anglesey because it is in walkable distance with stunning views! Bangor is situated in an accessible location as you can visit many attractions with convenient transportation. (e.g. Snowdonia Park, Conwy Castle, Llandundo.
What is the highlight/best thing about being a student at Bangor?
One of the best things about being a student at Bangor is to meet friends from different countries – after I graduated from Bangor, we are still keep in touch! Besides, I think I have met some really great and supportive professors that have helped me to achieve my goal. Without their help, I won't be able to receive the Dr. John Robert Jones prize from the University during my final year of study.
Describe Bangor in three words.
Lovely, Serene, Superb!