Bangor Entrepreneur walks away with Judges Award from Santander Universities Emerging Entrepreneurs Awards 2020
Bangor University graduate and MSc student Jan Lloyd Nicholson recently represented the University at the semi finals of the Santander Universities Emerging Entrepreneurs Awards with her project, Henry's Cushion.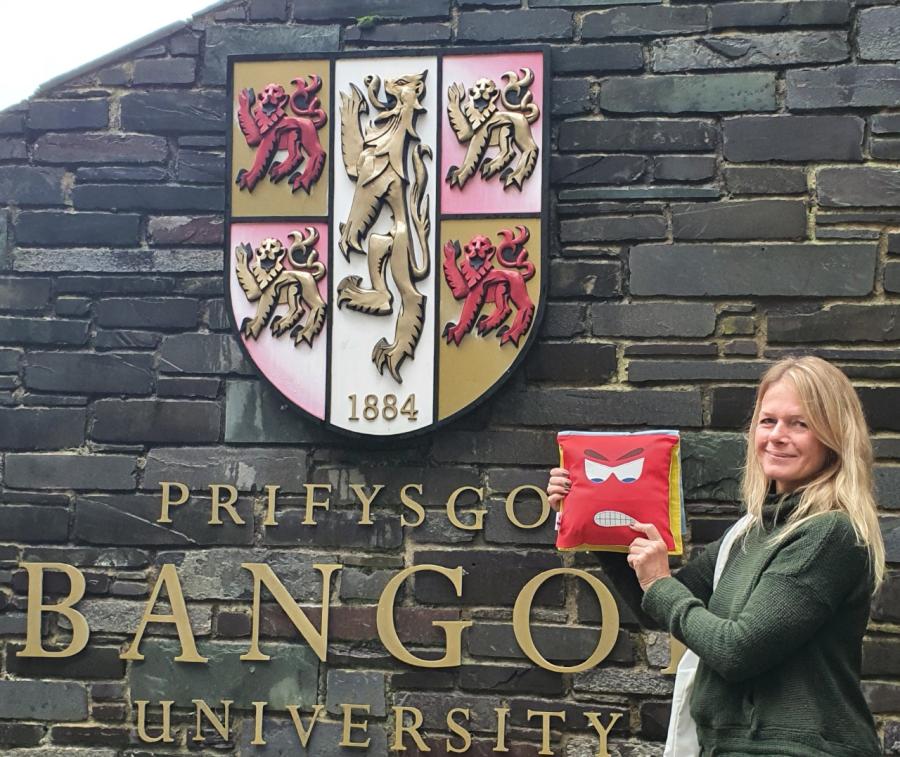 With over 80 entries from across the bank's partner universities, Jan was one of four semi-finalists to represent Wales but the only one to succeed in scooping an Award. Henry's Cushion was one of eight businesses to be announced as the Judges Choice Winner from the semi-final round and won £1,000 of seed funding from Santander Universities. 
The online event took place on 29th September and follows a virtual programme that ran across the summer months in celebration of 10 years of supporting entrepreneurship. Jan attended fortnightly webinars, panel discussions and workshops aimed at helping the emerging entrepreneurs understand how to get the most from their business. As well as receiving individual coaching and peer-to-peer learning the unique educational experience was led by a series of innovative businesses and guest speakers. 
Henry's Cushion, a non-verbal educational aid, was born out of a conversation with Jan's autistic son Henry and with the invaluable support of the University's B-Enterprising team, the School of Psychology, Big Ideas Wales, M-SParc and the Enterprise Hub, Jan has spent the last couple of years developing and fine tuning the product to get it market ready. 
Jan commented;
 
"I am both honoured and humbled to have won one of the Judge's Choice Awards at the Santander UK Universities Enterprise Entrepreneurs Awards with my product Henry's Cushion. Thank you to Bangor University for having the faith in me to represent them and to Santander Universities for helping me to grow as a person and for the brilliant journey I have shared with fellow students on this fascinating programme. I would especially like to thank Katherine Lewis, Lowri Owen and Eirian Griffiths of the B-Enterprising team for all their support and faith in me". 
"I hope to be able to continue this amazing journey and to help others; from the young to the elderly, to those grappling with mental health issues who struggle to communicate their emotions - the possibilities for Henry's Cushion are only starting to emerge. This award however is not mine, it belongs to my genius of a son, Henry, I am merely the person lucky enough to shout about it from the rooftops and will continue to do so". 
2020 marks the 10th year of the Santander Universities Entrepreneurship Awards which has awarded more than £500,000 in support of student start-ups across the UK and given universities the opportunity to showcase entrepreneurial talent from across the country. The funding received directly from Santander Universities allows for direct funding to the emerging businesses through the package of SEA Support as well as office space in the Incubation unit at M-SParc. This complements the funding received by the University from the Welsh Government's Youth Entrepreneurship Programme to support emerging entrepreneurs.
Nathan Bostock, Santander UK's CEO, stressed the importance of championing start-ups and said: "We're committed to supporting higher education and nurturing entrepreneurship among students particularly given the current challenging environment for graduate career prospects. Now more than ever, it is important we support those who are laying the foundations for a business while studying and may be on their way to making it a full-time career. Congratulations to the winners and all those who presented their pioneering ideas this year – they were truly inspirational."
Prof Paul Spencer, Pro Vice Chancellor for Research and Innovation said:
"I' d like to add my congratulations to Jan on this impressive achievement. I attended the Emerging Entrepreneurs Awards and the standard of pitches was very high.  It's a great advert for the entrepreneurial and innovative talent we have our Student body and what their great ideas can achieve with support and mentoring"
Additionally, Bangor University will be participating in the Employ Autism Higher Education Network Programme supporting Autistic Students with accessing high quality internships with businesses. Part funded by Santander Universities and delivered in partnership with Ambitious About Autism this exciting initiative will ensure that Autistic students at Bangor have further opportunities to demonstrate their value in the workplace. Further details will follow the imminent launch of the programme.