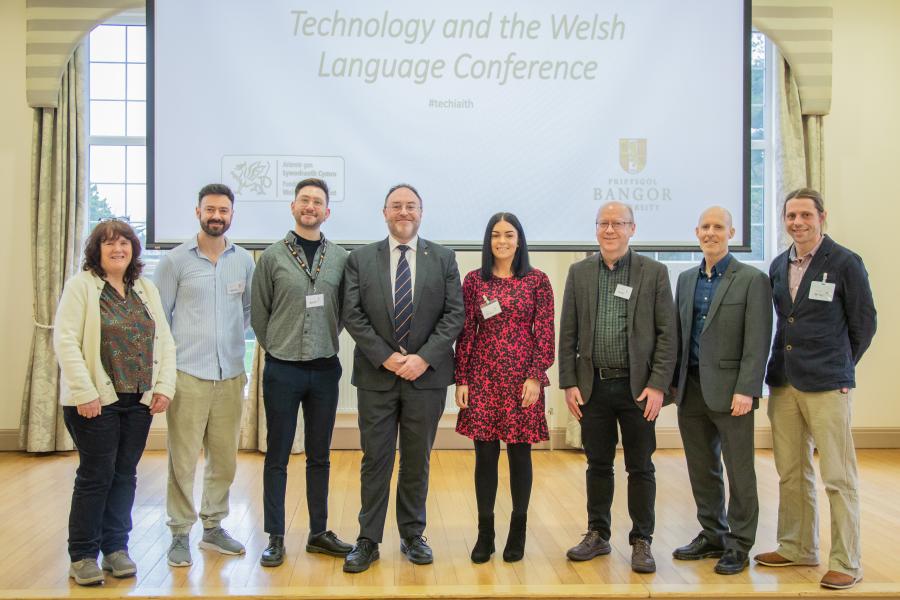 His observations were made at a conference on Technology and the Welsh Language held at Bangor University today (Friday 24 February 2023.)  The Minister opened the Conference, which provides an opportunity for anyone with an interest in the use and spread of language technologies in lesser used languages, especially Welsh, to learn more about the latest available language technology resources.

The Minister is encouraging Welsh speakers and businesses in Wales to 'make the best use of the treasures' which are already available.
Technology and Welsh Conference
The fifth Technology and Welsh Conference organised by the Language Technologies Unit is focusing on the spread of Language Technologies in minority languages.  The aim is to bring academics, the business world and public services together, with an exhibition of software and technology equipment from small commercial companies from Wales. There will also be an opportunity to sample Bangor University's latest innovative resources.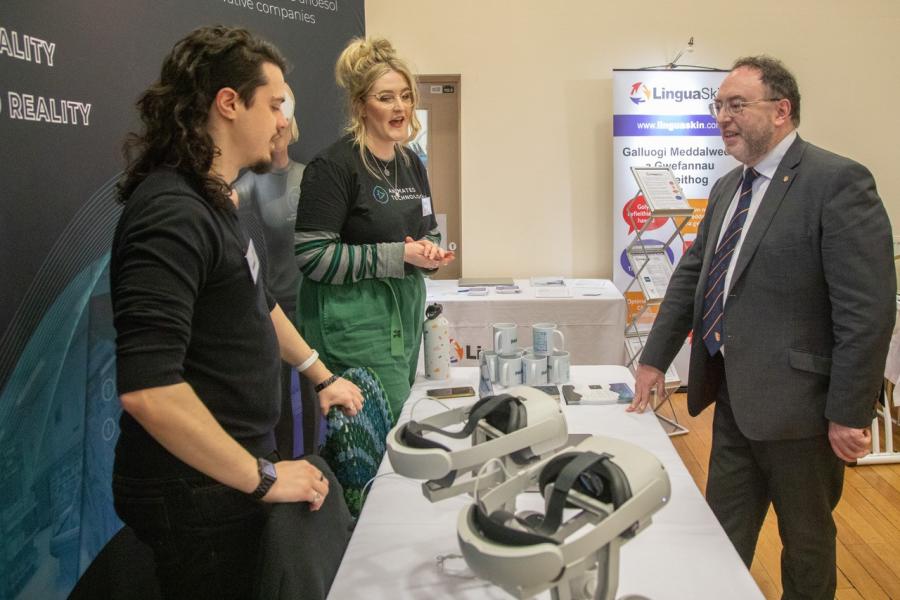 Y Trawsgrifiwr (Welsh transcriber)
One such resource is Y Trawsgrifiwr, a software programme developed by the Language Technologies Unit, funded by the Welsh Government. It transcribes Welsh speech into text. Considering the wider influence of the latest resource to the Language Technologies Unit, Jeremy Miles MS said,

"With our sponsorship Bangor University has developed a Welsh transcriber. Listening to people speaking Welsh and typing what they are saying, creating automated subtitles for videos.  This will create a way to know what is contained in archived and other videos."

"The hope is that it will be really useful for readers."

This dovetails with a presentation by Einion Gruffydd of the National Library of Wales on the Library's current crowd-source project to transcribe the Welsh film and television archive.
Bilingual synthetic voices
In another exciting development, the Language Technologies Unit will announce that they are about to release bilingual synthetic voices, extending the range of Welsh voices available. These will be used in resources such as Macsen, the Welsh personal assistant software similar to Alexa or Google Assistant.

Discussing some of the benefits of the development, the Minister said,

"I'm very fond of technology, not technology for its own sake, but of technology which will help Welsh speakers in a bilingual Wales."

 "This will mean for example that a blind person listening to Welsh text will still hear one 'person''s voice, as it were, when they read an article in English."

 Following Jeremy Miles MS's comments, Professor Delyth Prys, head of the Language Technologies Unit said,

"We are delighted with the Minister's Support for our work. Welsh Government investments in Welsh technology are now reaping obvious rewards, and commercial companies are able to include our resources in their products, for the benefit if the Welsh economy and Welsh Language users."

 Presentations from beyond Wales include Professor William Lamb of Edinburgh University, sharing information about Gaelic Language Technologies in Scotland and their recent partnership with Bangor University.

Also presenting are Dr Rodolfo Piskorski of the University of South Wales and Fernando Pabst Silva of Cardiff Metropolitan University, the developers of Gairglo, the Welsh version of the popular word game, Wordle.