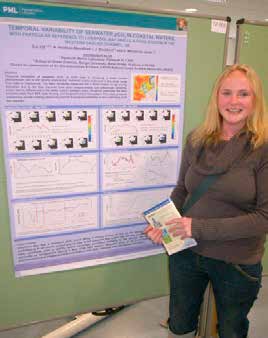 Alumni Profile: Emmer Litt
Course: BSc Geological Oceanography, MSc Physical Oceanography
Occupation: Marine and Coastal Physical Scientist with Natural Resources Wales
"After an access course at Plymouth University I decided the city wasn't for me and saw that Bangor University had an Ocean Sciences department which looked a lot more approachable and had nearby mountains and sea to play in, in my spare time.
When moved to Bangor I found it very easy to integrated into the community (not only the university but also the local community) and felt at home instantly. That was 15 years ago and now have a family and home in the mountains and don't plan to leave!

Although the course was theoretical course it had lots of practicals to bring the subject to life with plenty of 'hands-on' time. This included going out on the boat and field courses locally shores as well as a week long residential field course in South Wales. In my job I now put these skills to good use in looking at evidence, strategy and policy regarding marine and coastal physical science in Wales.
I would recommend Ocean Sciences at Bangor University to anyone who has a genuine desire to learn and be a part of a small nurturing community, but one with a world-wide reputation."