Helen Marie Meatcher – Masters in Marine Environmental Protection
Background
After graduating as a mature student with a BSc Hons in Marine and Environmental Biology from St Andrews University in Scotland, I found that most roles in marine science required post graduate qualifications. I found work in the NHS but I continued my interest in marine science through a residential course at the Seawatch Foundation, where I met Dr Evans who lectures at the School of Ocean Scienc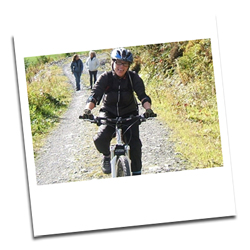 es. As a postgraduate qualification is now necessary for in the marine and conservation field, I decided to arrange to do a masters project with Seawatch and apply for a place on an MSc course at Bangor.
Why Bangor?
The MSc in Marine Environmental Protection at Bangor University is widely regarded as a high quality vocational course for this field. Having discussed the course content with Dr John Turner, the course director, I was keenly interested in subjects and training provided. My aim for post graduate study was to learn key skills usually specified on job adverts of interest to me; such as GIS and EIA training.

The Course
The course enabled me to specialise in the use of GIS and habitat modelling software. I have found great benefit from the fisheries science modules and the practical skills associated with them. I was especially pleased to be able to gain experience on the RV Prince Madog, by carrying out a benthic grab survey and fishery stock assessment otter trawls, using industry standard gear and methodology. I gained a great deal of experience in report writing and presenting. The Environmental Impact Assessment was a crucial piece of work for job applications to marine environmental consultancies.

The Lecturers…
Through my course I had exposure to staff that are among the best in their field and so lectures were of a high standard. Students are taught current methodology and concepts. I was assigned a mentor at the start of the course, who provided additional support and guidance to study at MSc level. They help to build confidence and excellence in your work. I also had additional support from the University for Dyslexia, for which I was provided a quiet study area in the library and help with my application for DSA.
School of Ocean Sciences…
I absolutely loved living in Menai Bridge, so close to the sea but also with a great view of the mountains. At the start of the course I spent my weekends mountain biking in North Wales. I also met with class mates to go walking in the Snowdonia national park or exploring the beautiful coastline of Anglesey.
Highlight
Trips on the RV Prince Madog were a great experience.  I also really enjoyed the day we carried out a formal survey of Shell Island in Ceredigion.  The weather was dreadful but we worked in groups and it was a wonderful team building experience.
From graduate to employee
After having achieved a distinction for my masters project I have felt confident in applying for roles in both the private and government sectors. I now have experience in assisting in writing a report for a fishermans' association, in response to a DEFRA consultation. My next venture will be either consultancy or PhD study as I am keen to be involved in research that informs marine environmental policy.