Honorary Professorship for David J Snowden
David J Snowden has been appointed to an honorary chair in the School of Psychology, Bangor University. Professor Snowden is the founder and Chief Scientific Officer of Cognitive Edge. He has pioneered a science-based approach to organisational decision-making drawing on anthropology, neuroscience and complex adaptive systems theory.
He is generally considered to be a pioneer in the application of complex adaptive systems theory to a range of social issues, and in the development of narrative as a research method. His use of the Sensemaker methodology has been applied across government and industry in a variety of fields including knowledge management, strategic planning, conflict resolution, weak signal detection, decision support and organisational development.
Snowden holds an MBA from Middlesex University, and a BA in Philosophy from Lancaster University; and started his working career with Data Sciences Ltd (formerly Thorn EMI software), acquired by IBM in 1996. He was the Director of IBM's Institute for Knowledge Management, and the founder of the Cynefin Center for Organizational Complexity. During this time, Snowden developed the Cynefin framework, a practical application of complexity theory to management science.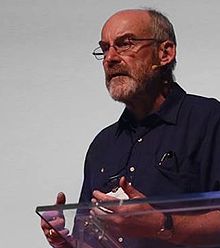 David J Snowden
The framework helps determine the prevailing operative context, enabling appropriate choices and decisions. Snowden explains the choice of the term Cynefin /kʌnɨvɪn/: "[it is] a Welsh word that signifies the multiple factors in our environment and our experience that influence us in ways we can never understand. Cynefin has a meaning similar to 'habitat' and is also used "as an adjective used to convey 'acquainted' or 'familiar'."
Professor Snowden's seminal Harvard Business Review cover article "A leader's framework for decision making" was selected as the 2007 Best Practitioner-Oriented Paper in Organizational Behavior by the Organizational Behavior Division of the Academy of Management. The citation read:
"This paper introduces an important new perspective that has enormous future value, and does so in a clear way that shows it can be used… [The article] makes several significant contributions. First, and most importantly, it introduces complexity science to guide managers' thoughts and actions. Second, it applies this perspective to advance a typology of contexts to help leaders to sort out the wide variety of situations in which they must lead decisions. Third, it advises leaders concerning what actions they should take in response."
Head of Psychology, Dr John Parkinson said "This is an exciting appointment with enormous potential. At Bangor, Professor Snowden will support collaborative endeavours across Schools and with Arloesi Pontio Innovation in teaching, research and commercialisation. One aim of the appointment is to develop a Centre for Applied Complexity in Bangor in order to pioneer theory and application in complexity science, and to further develop narrative techniques for sense-making and research."
Initial programmes include:
- the Small Countries programme, already underway which seeks to explore new approaches to government using complexity theory and will initially focus on health and social sectors. This programme will run in Wales and several other small countries or provinces;
- Children of the World; a new open source Citizen Journalist project based on existing work in Latin American, Europe and Africa;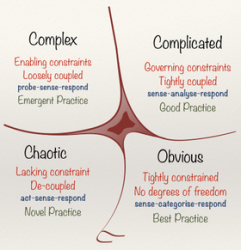 Cynefin Model
- A new transdisciplinary education programme designed to create wider awareness of science and the humanities in managers;
- A narrative database for Peace and Reconciliation with linked methods and tools with the first application about to start in Latin America.
Chris Bolton, Wales Audit Office Good Practice Exchange Manager, commenting on the impact of Prof. Snowden's work said, "We have been involved with the Small Countries project and working with Dave Snowden for a number of years. The approach of using narrative to better understand the complex relationships between citizens and rapidly changing public services is of interest to how we work."
Further links to Prof Snowden's work:
http://en.wikipedia.org/wiki/Cynefin
http://merlion.sensemaker-suite.com/smsite/index.gsp
Publication date: 15 April 2015