Bangor's elite athletes awarded Sports Scholarships
Every year, Bangor University supports students with sporting ability by offering a number of Sports Scholarships for students studying for a degree in any subject area.
These Sports Scholarships are awarded to recognise and support sporting excellence and achievement. They are aimed at helping talented and high performance students to combine their academic study and sporting performance to assist them in achieving their full potential.
Richard Bennett, Director of Sports, said: "Following the extensive investment in facilities, we are very pleased to also be able to expand the number of sports bursaries awarded. The athletes will also benefit from a partnership with colleagues from the School of Sport, Health and Exercise Sciences who will be offering tailored one-to-one support to athletes during the next 12 months."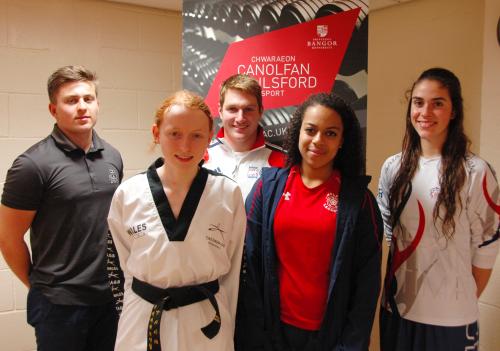 L-R: Lewis Parker, Rhiannon Williams, Owen Mitchell, Chelsea Naysmith-Miller and Rachel Turton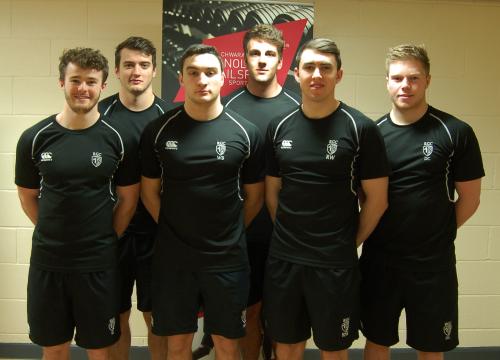 L-R: Sam Jones, Ianto Pari, Will Bryan, Sean Lonsdale, Rhun Williams and Danny Cross
This year saw twelve students receive scholarships totaling £25,000 for a wide range of sports, from golf to rugby. The students to benefit from this year's Sports Scholarships are:
Will Bryan, School of Electronic Engineering, Rugby
Sean Lonsdale and Owen Mitchell, Bangor Business School
Rhiannon Williams, School of Biological Sciences
Danny Cross, Sam Jones, James Lang, Chelsea Nasmyth-Miller, Ianto Pari, Lewis Parker, Rachel Turton and Rhun Williams, School of Sport, Health and Exercise Sciences
The scholarship programme is part of a wider commitment to raise the profile and reputation of the University through sport.
Additionally, each year Canolfan Brailsford awards a local bursary to an elite athlete from the local community. This year it was awarded to weightlifter Catrin Jones.
Catrin, 16, a pupil at Friars School Bangor, is Wales Senior Champion and the GB U20 Champion. She is the current British U18 champion and record holder, her aims are to compete at the Commonwealth Games in Gold Coast in 2018.
Publication date: 10 December 2015