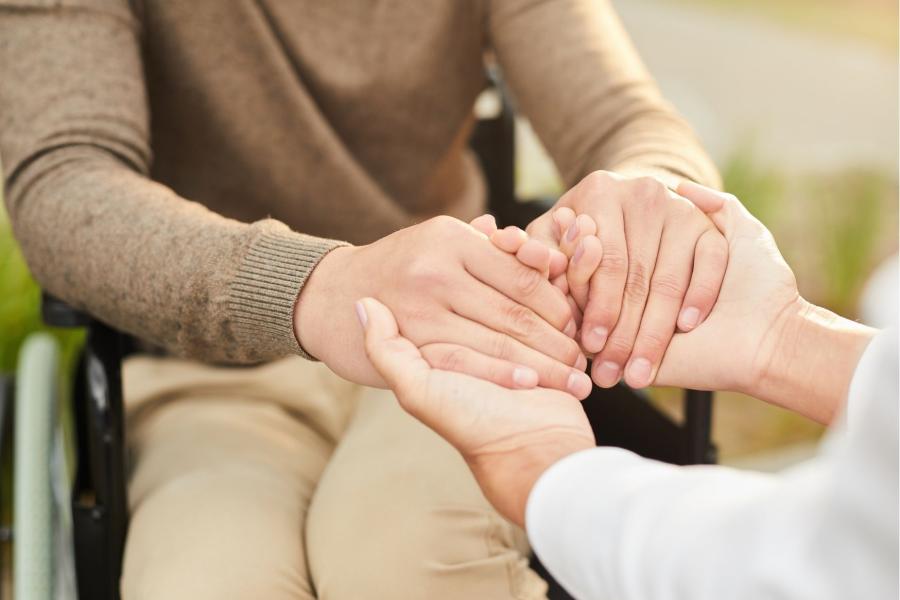 Why Study Health Sciences?
Our postgraduate research programmes provide an opportunity to develop expertise across the diverse areas of Health Economics, Primary care, Ageing and Dementia, Implementation and Health Sciences at Masters by Research, MPhil or PhD levels, supported by an interdisciplinary team approach. As a postgraduate researcher at Bangor you will receive mentorship in developing your research study, ensuring you develop a transferable set of skills that will enhance your future career opportunities.
Our postgraduate research programme includes a Community of Scholars, providing 'open access' to applied research practice resources such as Podcasts on design, ethics, governance and careers, as well as an embedded and multidisciplinary clinical academic network that includes nursing, medicine, dietetics, paramedicine, dental and audiological disciplines. 
 A novel feature of our postgraduate research programmes is the option of pursuing the DHealthcare Doctorate programme which provides students with an option to advance scholarship in applied health and social research centred on advancing professional practice. The DHealthcare programme has a balance of taught modules and applied research components focused on the subject areas of Public Health, Implementation or Ageing and Dementia. It includes part-time or full-time pathways and an e-learning programme (Ageing and Dementia), as well as opportunities to embed the research component within an organisation or industrial partner across all of the DHealthcare programmes. 
Career Opportunities in Health Sciences
Our postgraduate research programmes provide applied scholarship and research training that is relevant to contemporary careers in research or professional areas of clinical health and social care practice, across the UK and internationally.
The DHealthcare is especially relevant for those health and social care professionals in advanced clinical or organisational roles which combine elements of practice, research and service improvement in health and social care. The programme provides a doctorate qualification which involves advanced study and research modules designed specifically to meet the needs of the health and social care industry, supporting your career development in a wide range of related professions. 
Our Research in Health Sciences
Our research groups are all part of the Bangor Institute for Health and Medical Research (BIHMR). We are building on BIHMR's success in REF 2021 to sustain and grow excellence in health, medical and social care research. We conduct research of the highest standard, with UK and international impact that contributes to improvements in local health and healthcare, as well as making an impact across Wales, the United Kingdom and internationally.
Our ambition is to make a positive contribution to health and wellbeing in Wales, and to resolve national and global health and care challenges. We do this by:
Undertaking the highest quality research that generates new solutions in health and care services
facilitating service improvement initiatives
providing the best teaching and learning based on contemporary research to develop the current and future health and care workforce
partnership working to ensure that all that we do is of the highest possible standard, quality and value to service users, students, practitioners and other stakeholders.
recognising our bilingual heritage in North Wales
maintaining language and cultural competence relevant to local, national and international partners.
Related Subject Areas
You may also be interested in these related subject areas.
Related Subject Areas
You may also be interested in these related subject areas.