Why Study Psychology?
At Bangor University we are proud of our strengths in both the teaching and learning and research domains, ensuring that you'll be learning the science and application of psychology from world class researchers and lecturers. 
6th (of 119) for overall student satisfaction (NSS 2020)
Top 20 for Research Quality (Complete University Guide 2021)
Bangor Psychology is a large and cosmopolitan department with staff and students from all over the world
We were one of only two UK Psychology departments ranked top 20 for research in REF 2014 that are also ranked top 10 for student satisfaction in the same year
Bangor Psychology is over 50 years old, established in 1963, putting it amongst the oldest in the UK.
There are a large number of specialist research labs including a 3T MRI scanner, TMS Labs, EEG facilities and a brain anatomy laboratory.
If you want to go on to pursue a psychology PhD, our Psychological Research MSc is recognised by the Economic and Social Research Council (ESRC) as providing you with the transferable skills essential to social science research. If you don't have a psychology background, then you could consider our MA Psychology or explore some of our applied psychology master's degrees.
The postgraduate psychology and applied psychology programmes you can study at Bangor University offer a combination of variety, quality and learning experience that are not available elsewhere; delivered in a large, multi-lingual, cosmopolitan department. We'd love you to join us.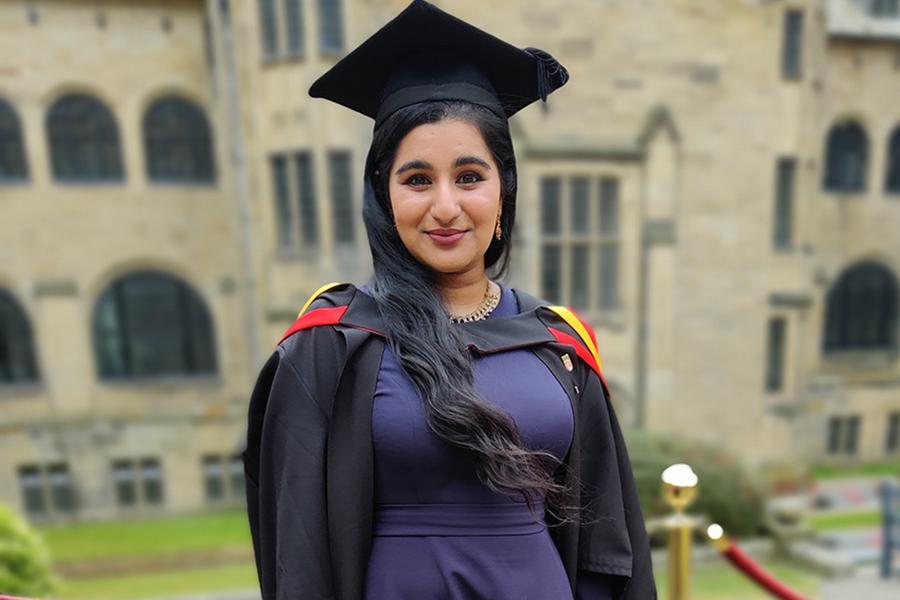 Student Profile Radha Shah
MSc Counselling
"The Counselling course at Bangor is very vocational and directed towards a career in counselling. It has provided me with the foundations to pursue this career but has also left room for me to continuously develop my skills and critical evaluate research."
Career Opportunities in Psychology
On graduating with a Master's degree in psychology, there are a range of career options available including:  
Forensic Psychology
Educational Psychology
Organisational/ Business Psychology
Clinical Psychology
Sports Psychology
Health Psychology
Counselling
Consumer Psychology
Beyond directly related careers such as these, the key skills taught at master's level are attractive to a range of employers. You'll graduate with highly developed analytical and statistical knowledge, as well as skills in oral presentations and written reports. You can also use your psychology master's degree as a stepping stone to further PhD study or other professional doctoral degrees.  
As the need to understand and predict human behaviour expands, the need for psychologists will continue to grow.  This means that your skills and understanding of what it is to be human will continue to be in demand by a wide variety of employers. 
Top 20
for Research Quality
Complete University Guide 2021
89%
of research output either world-leading or internationally excellent
Research Excellence Framework (2014)
Our Research in Psychology
Our research reflects two key approaches. First is the development and study of interventions to promote well-being, from early childhood to older age. Intervention was at the heart of the School's agenda at its inception more than 50 years ago and remains central to our research identity today.
Our second key approach is cognitive neuroscience, where we have invested heavily in staff and specialised research facilities, to investigate perception and action; language and development; and social cognition. 
Related Subject Areas
You may also be interested in these related subject areas.
Related Subject Areas
You may also be interested in these related subject areas.