Top 5
UK University of the year
(WhatUni? Student Choice Awards, 2022)
83%
Overall Student Satisfaction in Economics
National Student Survey 2022
2nd
in the UK for Academic Support within Economics
National Student Survey 2022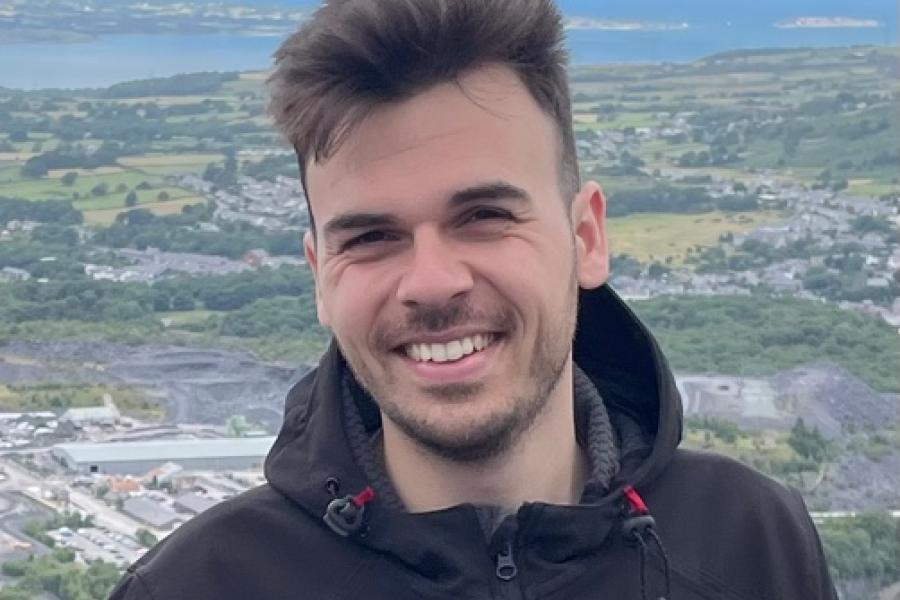 Charles Vogt
The support, care, and encouragement from my lecturers gave me the confidence I needed to succeed in finding employment. Not only do lecturers care about how you perform inside the classroom, but they also care about how you'll succeed later down the line. The career fairs and employment support on offer at BBS certainly helped me to connect with people in the same area of study and branch out my network in order to secure a job after graduation. In fact, if I hadn't attended a Bangor University careers fair, I wouldn't have met the employer I'm still with today!
William Overton-Smith
William tells us about his experience studying Economics here at Bangor Business School. 
Chat with current Economics students
Do you have a question about life as a Bangor University student? Our ambassadors will be happy to help you find the answer.
They can tell you more about studying here, about the amazing Clubs and Societies we have, and how they made friends and settled in to life at university. 
Ask our lecturers a question
If you have any questions about the course, our lecturers are on hand to help. Below are some examples of frequently asked questions. Can you think of any more? 
What are the qualities of a successful Economics student at Bangor?
How can I prepare myself to study Economics at Bangor?
How will I know that Economics at Bangor is the right choice for me?
Why Study Economics?
Economics provides us with different ways of thinking about the world and how it functions. It helps us to understand how individuals, businesses and governments do behave; and gives us insights into how they should behave. At one extreme, economics informs the decisions that governments make about some of the most pressing issues of our day, including climate change and inequality. It informs how businesses make decisions about everything from pricing and advertising to investments in product development and corporate strategy. At the other extreme, it can help us as individuals to make better decisions about our own lives; including how hard we should work and how much we should save for our retirements.
Our single-honours programme in Economics will allow you to gain an understanding of the workings of modern economies, whilst developing skills that will be of great value for your future life and career. You will gain insights into the ways that firms compete with each other, the behaviours of individuals as consumers and workers, and how governments attempt to manage and regulate these processes. Moreover, you will learn how these factors shape society at large by influencing economic growth, inequality, sustainability and the response to natural and man-made crises. You will build skills in modelling, data and analytical thinking – all highly prized in today's job market.
Our Economics and Finance programme will allow you to combine the study of economics in general with a specialism in financial markets and corporate finance. It will allow you to gain an understanding of the workings of modern economies and the financial markets that lie at their heart. You will study how firms, individuals and governments make decisions that shape society at large. You will also learn how the financial markets, which moderate these decisions, function. In doing so, you will develop skills that will be of great value for your future life and career, including those related to modelling, data and analytical thinking.
George Buckley - Bangor Business School Alumni
George now works as the Chief European and UK Economist at Nomura. He shares his memories of studying Economics at Bangor Business School and his top tips on how to get the most out of your degree.
George Buckley Video Transcript
0.2 Hello my name is George Buckley and i was a Bangor University student many moons ago now back in the early 1990s
0.7 and I want to tell you a bit about my career progression and perhaps give you some advice about your time at university and beyond.
0.17 Now i did a degree in Economics at Bangor and I loved Bangor.
0.21 I thought it was a great place to study you have the beautiful backdrop of the Menai Straits on one side and of course the Snowdonia national park on the other
0.29 super place to study and I then went on to Bristol to do a master's degree in economics and finance and completed a PhD at Bristol
0.38 as well thereafter and after that I went to went to the city and became the Chief UK Economist at Deutsche bank
0.46 and since then as you can see, I'm now the Chief European and UK Economist at Nomura.
0.53 So what advice can I give you? Well one thing I would say is that the time that you spend at university
0.59 I certainly found went by so quickly, so you need to make the most of it make sure that you get a good degree but also make sure that you leave university with more strings to your bow than just that
1.01 Make sure you foster some good friendships, make sure that you join clubs, get extracurricular activities under your belt
1.19 and importantly if you want to do something like I have it's really important these days that you get some good work experience
1.37 So if you get the chance to do any work placements make sure you take them but above all, enjoy your time at Bangor.
Our Research in Economics
Bangor Business School is a name synonymous with research excellence. Academic staff regularly undertake high-level consultancy and research work for external organisations and their research is published in leading academic journals, and their books and research report reach a worldwide audience. We offer a stimulating and supportive research environment, and research students play a central and highly valued role in the School's research culture. Our group of academic staff is hugely experienced in PhD supervision, with some staff members having supervised over twenty students to completion.
Related Subject Areas
You may also be interested in these related subject areas.
Related Subject Areas
You may also be interested in these related subject areas.