An excellent year for Samantha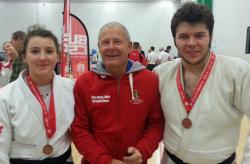 Samantha Hemming (left) with her coach, Steve Clarke and team mate Farzad AbdollahzadehA Bangor University sports scholarship winner has had a terrific year competing at various judo championships.
Samantha Hemming, 21, from Credenhill, Herefordshire is second year law undergraduate student who first got into judo in 2012.
Most recently, Samantha won Silver at the North West Open in Merseyside which led to her gaining 75 GB ranking points.
Having been awarded a sports scholarship has allowed her to compete abroad where she recently won the female Dan grade category and Gold in the U78 Kg category at the Malta International Open. As part of the tournament the teams were given the chance to train with the Maltese Judo Team. Samantha was also placed Bronze in the open category facing a Maltese Olympian.
Other notable wins during the last year include Gold at the BJC National Championships, Gold at the Sheffield Open, Gold at the Welsh National Championships and Bronze at the BUCS championships last month.
The sports scholarship has also enabled her to have gym sessions with an instructor at Canolfan Brailsford, the University's sports centre. Samantha said "The gym sessions have definitely helped with my judo to increase strength and fitness. The University also has an external coach, Steve Clarke a 5th Dan, which has definitely benefited with my training."
Although Samantha has competed extensively across the UK and further afield, her coursework hasn't been compromised, she explains: "So far I haven't had any issues with my training and coursework, but to avoid any potential issues I make sure that I start my work when it is set and then use free time during the day to hit the books and the library, reserving the evening and weekends for my training. So far this seems to be giving me a good balance between the two."
Publication date: 17 March 2015