12 Months of Impact at M-SParc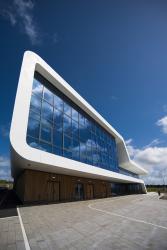 The Award-winning M-SParc building at Gaerwen, AngleseyBusinesses located at M-SParc are leading the way in innovation and economic development. We look back over the year and the impact they have had.
Since the Park opened in March 2018, the 24 businesses there have created 24 new jobs, six student placements, four graduate employment opportunities, and grown their company turnover for the benefit of the region. Positive news and a good head–start for an impactful 2019.
Of those jobs, M-SParc Ltd has directly created seven jobs, and 3 of these are new posts created over the last 12 months.
BIC Innovation, who provide business improvement and growth support to SMEs, have recruited seven people during the past eight months, three of whom are located at M-SParc. Huw Watkins said "Being here has allowed us to reach a new and expanding client base. We have improved our visibility and have benefited from chance meetings, which have been invaluable. Through a range of funded and commercial services, we've been able to support five of the current tenants of M-SParc, contributing to the vibrancy of this excellent facility."
Futurium, a technology company developing innovative solutions for clients in the architecture, engineering and construction industry, have employed 10 new people since locating at M-SParc six months ago.
Tomasz Murlikiewicz Co-founder, said: "The ethos of M-SParc is one of the main reasons we moved here as a company. Developing a leading edge tech business in North Wales we needed a building and environment to meet our needs.
We would like to congratulate the M-SParc team as they have created the most innovative, professional and dynamic environment."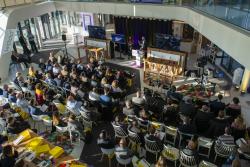 One of the many well-attended events at M-SParc during the last year.Minister for Economy and North Wales Ken Skates said: "It's great to see the progress made by M-SParc on Anglesey in its first 12 months. The aim of the park, the first of its kind in Wales, was to bring innovative businesses together in a creative and supportive environment, and help them grow. This has certainly happened so far. It's also good to see the links with schools and universities, showing graduates that there are well-paid high-level innovative job opportunities in North West Wales."
Work experience has been provided to four students from local schools over the last 12 months, giving them a taste of what science and technology is all about and inspiring them for the future. 16 key events have taken place at M-SParc since March, engaging with 1,300 people, of which 5 were events targeting young people with 460 children reached. M-SParc has held an event for the local primary school, four coding clubs, the F1 schools 'Team Drive' event which M-SParc sponsored, and the launch of the Profi project with Bangor University to inspire young people to consider their future careers. There will be more engagement and more events over the next year, in order to put North West Wales on the map; something positive is happening here, real impact is taking place, and M-SParc want more people to be a part of that.
M-SParc is located on an Anglesey Enterprise Zone, and is owned by Bangor University, which means it is able to build on this relationship for the benefit of the tenants. Work placements have been provided to six graduates, four of whom are graduates of Bangor University. Two work placements will become full time jobs once the students graduate, with a third student looking to return after graduation to be employed by their placement company, taking the total number of jobs created to 20 in 12 months! The Product Design and Engineering courses have benefit the most to date, but links are growing and M-SParc will continue to provide further opportunities for Bangor University students, including the Santander start-up office for graduates working on developing a new company or product, and a 'Super Six' shared office for those starting their first business.
Managing Director Pryderi ap Rhisiart said "The buy-in from our tenant companies to developing and growing their companies here at M-SParc has been inspiring. It is an ethos we thought we'd have to grow, but it's like these companies have been waiting all along for the opportunity! Those who are start-ups are increasing their company turnover, and learning from other companies on site and making the most of our dedicated business support. Some of the larger SMEs here are moving at a rate of knots!
It's not just about job creation, which is happening, but the way they're providing opportunities for undergraduates, talking to children at our events to share their journey and experience, coming to our Welsh classes to learn more and integrate themselves with the community. It feels like we're building something special, and it's not just M-SParc as a company that's responsible. Our tenant companies are to be commended for the real difference they are making to the region, almost a year after we opened our doors to them!"
M-SParc also became award-winning in the past 12 months, winning Construction Project of the Year at the Constructing Excellence Wales award and Digital Construction Project of the Year 2018 at the Constructing Excellence National awards. Continuing the winning streak, M-SParc won a £1m contract with Regional Development Funding through the Welsh Government to support entrepreneurs across North Wales, in partnership with Menter Mon. The Enterprise Hub, of which there are 6 setting up across Wales, are set up in order to support hundreds of new business and will cover Anglesey, Gwynedd, Conwy and Denbighshire, with the M-SParc building acting as a hub, and therefore a base for small businesses and those starting up in the region.
The past 12 months have been about creating a foundation for M-SParc, and we really look forward to 2019 and the opportunity to continue to demonstrate the true impact of the Park on the region. M-SParc will be offering more business support to our tenants to assist them in increasing turnover and creating further employment opportunities. We also aim to open an outside meeting hub in our courtyard, to further enhance the flexibility we provide here for people to work how they want, so watch this space! Looking forward, M-SParc is excited to continue the development, creating further impact along with the businesses located there to create something truly positive for the region.
Publication date: 18 February 2019