30 Years of Mathematics Master Classes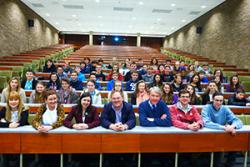 Front row l-r: Victoria Tyler, Ysgol John Bright; Rhian Jones, PGCE student, Samantha Durbin, Royal Institution, Gordon Malcolm, Magnox Wylfa Site, Chris Wensley, School of Computer Science, Geraint Simpson, Ysgol Uwchradd Caergybi, Geraint Rowlands,: PGCE student, and behind them, the current Maths Masterclass participants.Bangor University's Mathematics Masterclasses are celebrating their 30th year. These are exciting hands-on and interactive sessions led by education and industry experts for keen and talented young people from across North West Wales. The unique sessions go beyond the school curriculum and bring maths, computer science and engineering to life in surprising topics such as art and sculpture, computer science, design, medicine and even cryptography - the art of protecting information by encrypting it an unreadable format, called cipher text.
Every year, the masterclasses aim to open the eyes of around 50 young people to the excitement, beauty and value of these subjects, and in turn, inspire the next generation of scientists, mathematicians and engineers.
The classes, which are supported by the Royal Institution, were sponsored by Magnox this year and Wylfa nuclear power station's Deputy Site Director, Gordon Malcolm, took part in one of the sessions.
Gordon said: "Magnox is pleased to support Bangor University's Mathematics Masterclass through the Magnox socio-economic scheme, which does great work supporting the communities in which it operates. Mathematics is fundamental to so many exciting careers in science, engineering or business. It's great to see local young people enjoying these sessions and starting out on their own journey of learning."
Dr Chris Wensley, who has been on the organising committee for the last 30 years, said: "We are grateful for the cooperation of heads of mathematics in secondary schools throughout Anglesey, Conwy and Gwynedd in nominating their year 9 pupils. We are delighted to receive sponsorship from Magnox this year and, as always, the support of the Royal Institution is invaluable. We look forward to the next 30 years."
The sessions run every year between January and March – more details on the programme and how to get involved can be found on the web site: http://www.maths.bangor.ac.uk/masterclasses/
Publication date: 17 March 2014