35 Bangor University students to trek Kilimanjaro in aid of Mind
35 Bangor University students will be trekking up Africa's highest mountain, Mount Kilimanjaro, in aid of the mental health charity Mind.
The students will fly to Tanzania on the 3rd of September 2019, to trek to the summit of Mount Kilimanjaro, which is 5,895 metres (19,341 ft) above sea level.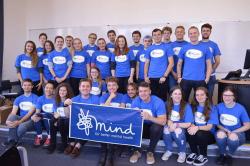 The students taking part in the trek
Students leading the challenge will be Tom Savory, from the School of Sport, Health and Exercise Sciences and James Grimont from Bangor Business School; along with delegate leaders Lydia Graham and Jacob Shaw who are studying Sports Science with Outdoor Activities and Business Studies student, Noah Williams.
James Grimont said: "Our mission is to raise £3,380 each and we have worked hard to motivate and inspire other Bangor University students to join us on this great adventure. Mental Health is a worsening crisis and we chose this charity as we are committed to making a difference."

Tom Savory said: "To prepare for the challenge, we have been training as a team locally in Snowdonia by hiking Snowdon in severe winter conditions, Aber Falls and Y Garn, as well as training individually.
"We also had an altitude/hypoxia chamber experience day led by Dr Jamie Macdonald, Head of School of Sport, Health and Exercise Sciences, to experience what it would feel like at high altitude, as well as a talk about the effect of high altitude on the body. Individual members of the team have also participated in marathons and various other activities."
Dr Macdonald said: "The best way to prevent altitude sickness is through education, so we were very happy to provide a workshop about the high altitude environment, and how to manage the multiple physiological and psychological stressors it imposes on the human body.
"Research Officer, Dr Rossetti presented results from our recent research, which found that being as physically fit as possible before departure helps mountaineers cope with the demands of trekking, without increasing risk of high altitude illnesses. We wish the team the very best of luck with their challenge."
Professor Carol Tully, Pro Vice-chancellor, said: "We are extremely proud of our students for selflessly undertaking this challenge, which will ultimately help many others. Student wellbeing is a primary concern at the University, where we strive to create an environment that is conducive to the students' wellbeing. This group of students are truly leading from the front in terms of raising awareness."
For over ten months, the students have been fundraising through various activities such as bag packs in Morrison's Bangor and Caernarfon, M&S and Tesco Bangor; street collections in Manchester, Chester, Bangor, Llandudno and Beaumaris. They also did 6 Nations Rugby fundraising activities in the Belle Vue and Bar UNO as well cake sales at the University.
The students have raised nearly £100,000 so far, and the trip has also been assisted through an award from The Bangor Fund.
Emma Marshall, Director of the Bangor Fund, said: "The Bangor Fund improves the quality of our students' university experience by supporting their education and development. Through, for example, travel bursaries, scholarships, sports provision or cultural activities, the wide-range of support provided by The Bangor Fund enables the University to deliver a 'margin of excellence'".
Kris Heuser, Community Fundraising Coordinator at Mind Cymru, said: "We're absolutely delighted that the students at Bangor University have chosen to fundraise for us on their trek up Kilimanjaro. The team have been working tirelessly for a year to raise close to £100,000 and have been great champions for better mental health.
"£100,000 could help us answer 12,500 calls to our Infoline, support 333 young people bereaved by suicide to receive support and prevent further suicide due to their bereavement, or help us print and distribute 400,000 booklets about mental health. Their fundraising will allow us to help more people and be there when needed most.
"It's been a pleasure supporting them on this journey."
Publication date: 30 August 2019